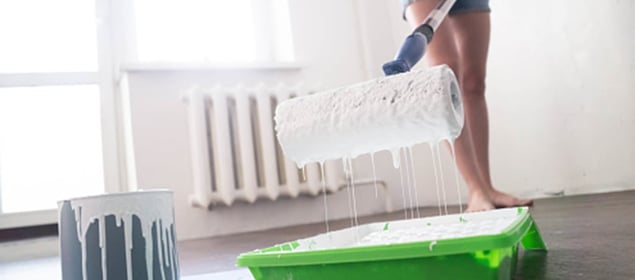 Not all renovations are equal in the eyes of your tenants. Some offer more value than others, all of which influences how much they're willing to pay to rent your property.
While aesthetics has its place, function and usability are also key when it comes to rental appeal. With this in mind, here are some of the best renovations to increase your rental yield and attract good tenants.
First ask: is renovating your rental the right thing to do financially?
Consider what you are already charging for your rental. Is it at the bottom, middle or upper end of the market? If you're charging below the median market rent, renovating your rental property could earn you significant gains. But, if you are already charging near the top of the market, the gains you make may be minimal.
To check the lower, median and upper rent charges in your rental's suburb, click here.
Here are a few questions to think through:
How much will the property cost to renovate?
How much will it allow you to increase the rent?
How long will it take for the rental increase to cover the cost of the renovation?
How much can you increase the rent of your property before the price starts to turn tenants away?
Read more: Lodge's complete renovations guide
Best renovations to increase rental return
1. Kitchen
Having a well-designed kitchen with low maintenance materials is instrumental in attracting and retaining tenants. In the same way, a kitchen renovation is one of the key ways to add value to your home, and growing your rental yield. If your kitchen is looking old and dilapidated, a revamp could be just the ticket. Here are a few things to consider:
Open plan is in: If your kitchen is secluded away from the rest of the home, consider renovating it to open it up for better access to the rest of the home.
Layout is critical: Choose the right kitchen layout for the space you have. Nothing is more frustrating than a kitchen that lacks basic usability features.
Think hard on floor choice: Kitchens are a high traffic area and prone to slips and spills. The floor never stays clean for long—especially when there are little ones around. Avoid light coloured tiles and grout as this will show up the dirt sooner. Instead opt for something hard wearing, such as sheet vinyl or porcelain tile.
Replace countertops: Choose a mid-range material that will last, but won't break the bank. Good options include stainless steel and engineered stone.
Read more: Renovating a kitchen: the basics
If you don't want to renovate your full kitchen, repainting or replacing your cupboard doors and handles, and swapping out your old tapware, can quickly boost the appeal of the space.
Tip! If you have space, add a dishwasher. Tenants are usually happy to pay a little more for the convenience it brings, especially those who have many mouths to feed—and clean up after.


2. Bathroom
After the kitchen, a bathroom renovation is a tried and tested way to add value to your rental, and therefore increase your rental yield, and appeal to your tenants.
Opt for darker or patterned flooring. Pristine white bathrooms look nice, but they don't stay that way for long, which makes them impractical for rentals.
Don't skimp on waterproofing and ventilation. Water and moisture ingress into your walls and/or floors can cause major damage. This will not only cost you in repairs, but can lead to lower rent charges for your tenants while you fix it or, worst-case scenario, a vacant property. Rule of thumb: waterproof and ventilate your bathroom properly to avoid costly repairs later.
Use mould-resistant paint. When you repaint, use paint that is specially formulated for wet areas such as the bathroom and laundry. This will help keep bathroom walls and ceiling looking smart and any mould under control.
Read more: Renovating a bathroom: 6 things you should know
Like a kitchen, a bathroom can greatly benefit from simple swaps, such as a new shower curtain, new tapware and, for something a little more intensive, regrouting.


3. Add a bedroom
Adding an extra bedroom can open up your home to a new pool of tenants that you might not have previously had access to. There are a number of options for adding rooms—whether it is dividing a large bedroom into two, extending the property footprint to include a new room, or adding an ancillary dwelling on the grounds.
Read more: House extensions FAQ: what homeowners need to know
4. Heating
From 1 July 2019 it is compulsory for rentals to provide a source of heating to keep the home warm and dry. Heat pumps are the best-known and most cost-effective heating option on the market. Moreover, many also feature cooling capabilities for the summer months too.
It is also worth noting that insulation requirements are set to change mid 2024, with the minimum ceiling insulation increasing from 70mm to 120mm thick. If you've not had to change your insulation to meet the current requirements, you may need to.


5. Small aesthetic changes
If you are short on time and budget, you can still give your rental a facelift that can boost its appeal and your rental return. Repainting, changing curtains, light fittings and tapware, for example, can quickly refresh a room, add appeal, and decrease the days your property is on the market and not earning a return.
Don't forget the garden either. A little landscaping can go a long way to increasing the presentation of your property. For the best results, opt for gravel rather than grass and incorporate low maintenance plants, such as succulents and perennials, which require little tending.
Read more: Low maintenance landscaping for the Waikato climate

Need help keeping on top of your rental maintenance? Download our complete investment property maintenance checklist to ensure your investment retains its value.