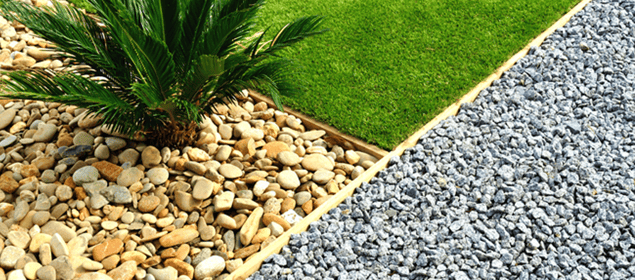 If your green thumb is a seasonal thing, or just non-existent, don't despair. Here are a few ways you can make your landscape design look great without spending hours maintaining it.
Climate considerations
Hamilton's mild climate and high rainfall make it well suited to a variety of plant and landscaping options. However, there are a few climate considerations to be aware of. These include:
Dry spells of 15 days or more that occur one to two times a year, usually in summer.
Tropical storms that bring heavy rain and wind one to two times per year.
Frost in winter.
1. Less grass, more gravel
With Waikato being mostly pasture country, grass grows quickly around here. If you hate getting out the lawnmower every other weekend, consider swapping your grass for gravel for a bit of zen appeal. What's more, using gravel can serve to highlight the features of your landscaping.
Gravel works well with almost any landscape design—from Mediterranean to modern—and can double as a mulch. There are a range of styles and colours of stone and gravel to choose from too: Lime Chip, Waikato Gold, Blue Rock, just take your pick! Riverstone is especially popular at the moment. We recommend using it around your water features; the water will bring out the natural colour of the stones.
If you choose to use gravel for your paths and driveway, consider laying down a stabilizing mat underneath it to stop your gravel shifting out of its intended spot!
Tip: Consider using different gravel colours and styles to create a feature within your garden or to create interest in your flowerbeds.
2. If grass is a must-have
Not everyone wants to give up the feel of fresh, spongy grass between their toes. If this is you, consider using fescue grass––it's heat and drought resistant and you can spray it with Gallant to remove weeds and other grasses without harming the original plant.
If you don't have your heart set on frolicking across a green lawn, try swapping out your grass for ground cover plants like Ajuga or "Bugleweed" and native creepers such as Selliera, the frost resistant Pratia angulate or the fern-like Leptinella dioica.
3. Choose low maintenance plants
If you don't want to have to coddle your plants, try incorporating these species for more low maintenance landscaping:
Perennials: These tough, non-fussy plants seem to thrive under adversity and include species such as lavender, daisies, daffodils, and lilies (see daylilies if you really want something un-killable). They'll handle wind, dry soil and mild temperatures. The only thing they don't like is waterlogged soil, so make sure you plant them in an area with good drainage.
Lomandra or Lime Tuff: This hardy Australian plant is able to flourish where many other grass-type plants can't, and its lime coloured foliage will stay green year-round.
Native plants: Using the plants that have evolved to survive the New Zealand (and specifically the Waikato) climate is one of the surest ways to create a low maintenance garden. Here are a few local species to investigate:
4. Transform your outdoor living area
One of the best ways to get around the need to regularly weed, water and prune your garden is to reduce its size––or remove it entirely. Instead, convert the area into an outdoor living and entertainment space. That could involve anything from a deck, decorative wall and outdoor dining set to a spa, gazebo or pergola.