Of all the renovations you might do to a home, the kitchen is almost always the most expensive. But don't let the cost turn you off, a well-renovated kitchen can deliver significant returns—around 50 per cent in fact1.
In Australia, a kitchen renovation can boost the value of a home by as much as AUD$60,000 dollars2. However, to achieve that, there are a few crucial elements of kitchen design you need to know.
1. Observe the triangle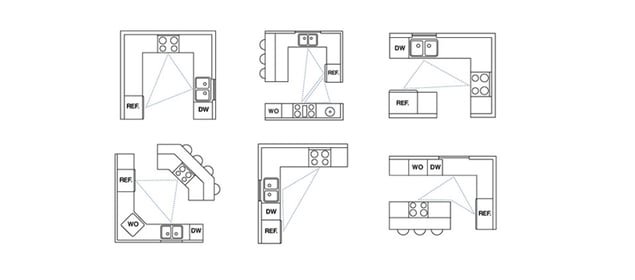 Image source: Homeideas.co.nz
The work triangle is the cornerstone of good kitchen design. It is the triangle between your sink, stove/oven and fridge. No matter if you choose to redo your kitchen, or stick with your current layout, it is vital that it is not obstructed.
Also keep in mind that if this triangle is too tight, people will crowd one another, and if it's too big, it hinders functionality and ease of use when it comes to performing tasks such as food preparation (and a greater opportunity for food spills).
As a rule, the combined length of your triangle's sides should be between three and eight metres.
2. Select the right layout
Or keep your old one! Keep in mind that changing the layout may require you to shift your plumbing and electrics, which can create added cost. Lastly, if you have to choose between function or aesthetics, choose function—nothing is worse than a poorly laid out kitchen.
L-shape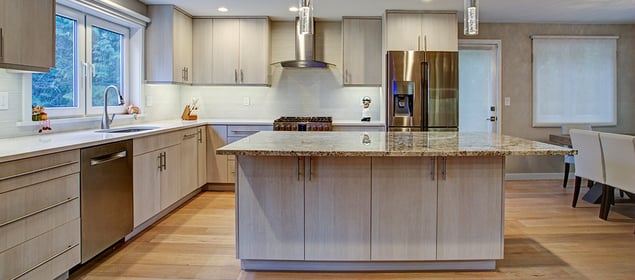 The L-shape works best in bigger spaces, and you'll often see it combined with a kitchen island to create additional counter space. This layout is good for both medium and large kitchen spaces.
Pros:
Ideal for medium sized kitchens.
Fits well into open-living floor plans.
Optimises counter and storage space.
Can incorporate kitchen island.
Cons:
An overly spread out design can cause usability issues (large working triangle between sink, stove and fridge).
Not suited to multiple cooks—because it is such a flat working triangle people can bump into each other.
Many suffer a lack of counter space if no island.
U-shape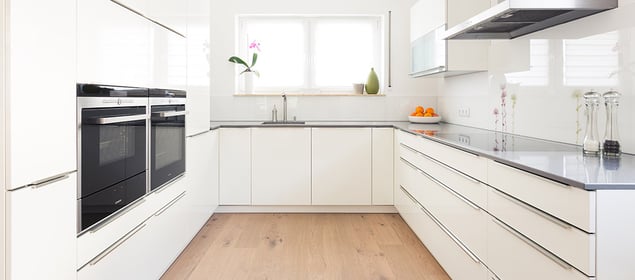 The U-shape kitchen is a popular choice if space isn't an issue. It works best in square shaped kitchens and needs at least 3x3 metres to be functional. In very large kitchens, homeowners often choose to add a kitchen island to maximise bench and storage space and reduce the size of the work triangle.
Pros:
Good amount of counter and storage space.
Option to add a kitchen island or sidebar.
Accommodates better traffic flow.
Cons:
Generally requires larger space to accommodate (3m minimum width).
Large kitchens may need to have an island to make more usable.
G-shape

A spin-off from the U-shape kitchen is the G-shape. Almost identical, it simply adds an extra counter at one end of the 'U'. This layout is ideal if you'd like a kitchen island, but don't have the space.
Pros:
Good amount of countertop space to work on.
Adequate storage space.
A sidebar can function as a small table or breakfast bar.
Cons:
Generally requires larger space to accommodate.
Adding a sidebar to a G-shape kitchen can clutter it.
A sidebar can inhibit traffic flow in smaller spaces.
Galley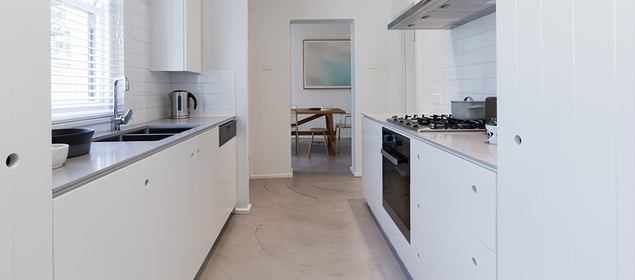 If you're short on room, a galley kitchen offers the most effective use of space. Modelled after restaurants and aircraft galleys, it can pack a lot into a small area. Everything is close by too, making it an easy space to work in.
Pros:
Can create a highly functional space in a small area.
Ideal for apartments and small houses.
Everything is within easy reach.
Cons:
Work triangle can be too tight if poorly designed.
Generally not suited to more than one cook.
Limited counter space—especially if the space is narrow.
Straight-line

If space is a serious issue, a straight line kitchen is another option. If you have room, it can couple with a kitchen island to give you a bigger work space.
Pros:
Can provide a kitchenette area for single room dwellings.
Ideal for studio dwellings and small apartments.
Everything is within easy reach.
Cons:
Work triangle can be too tight if poorly designed.
Not suited to more than one cook.
Limited counter and storage space.
Kitchen islands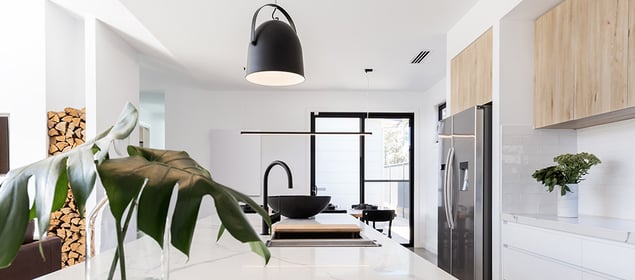 Lack of counter space is a common kitchen complaint and kitchen islands are an excellent way to address it. They add extra counter space, provide more storage space, can double as a table or breakfast bar, and offer a communal place for people to congregate without being in the kitchen.
However, it is important to note that kitchen islands need space. You need to have enough space to open doors and drawers and allow people to move past one another with ease. We recommend having at least one metre on all sides.
3. Consider flow to your dining room
While the kitchen may take the bulk of your attention, it is important to also consider how it will flow into your dining area. With the trend for open living spaces, many dining rooms are becoming an extension of the kitchen—especially when kitchen islands take the place of the table.
This flow has a practical aspect too: porting food from kitchen to table. If your kitchen and dining room are separated, the chance of accidents and spills while transporting food increases. It also hampers functionality and convenience.
Renovating more than your kitchen? Learn more about planning a renovation here.
4. Your cabinets are your foundation
Refreshing your kitchen cabinets is the easiest way to revamp your kitchen—and it doesn't have to be expensive. If you're keeping the same layout, you may choose to simply repaint your cabinets and replace their handles.
If you're planning on replacing your cabinets, it's important to replace them with something of quality. Cabinets are the foundation of your kitchen—they hold your benchtops, your sink, your pots, pans and plates and numerous appliances. Without them, you don't have a kitchen.
As kitchen designer, Sarah Quinlan, says: "You can always replace a laminate benchtop after a couple of years, but you can't do that if the cabinets have already fallen apart."3
5. Benchtop and sink considerations
Aside from aesthetics, there are two important factors to consider when you choose your benchtops and sink.
Weight
Natural stone or concrete benchtops might be the current trend, but they are also incredibly heavy. Check whether the cabinets underneath can hold their weight.
Maintenance
Your benchtops and sink will see a lot of action. Choose a material that is less likely to scratch and stain (marble, for instance, is very stain prone). Engineered stone, such as Primestone, Caesarstone and Silestone is a popular choice. For a cost-friendly option, plastic laminate works well too, though food is more prone to sticking to its surface. If you're after something tough and long lasting, nothing can beat stainless steel. While it does tend to show fingerprints, a brushed or textured finish will address this problem.
Tip: If you hate having food scraps caught in the lip of your sink, consider installing an undermount sink that allows you to sweep food off your benchtop with ease.
Renovating to sell: a kitchen checklist
If you're renovating with the intention to sell, here's a handy checklist. You might not choose to action every item, but ticking off a few is a good start.
Functional layout
New countertops
New or revamped cabinets
Squeaky and jammed drawers and cupboards repaired
New flooring/tiles replaced or cleaned and regrouted
New oven/stove
New rangehood
New backsplash
New tapware
New lighting, including adequate task lighting
Adequate powerpoints
Fresh paint
Download our home renovations guide for more tips and tricks on planning a stress-free renovation!
Stuff.co.nz, 2016.
Domain.com.au, 2016.
Stuff.co.nz, 2017.