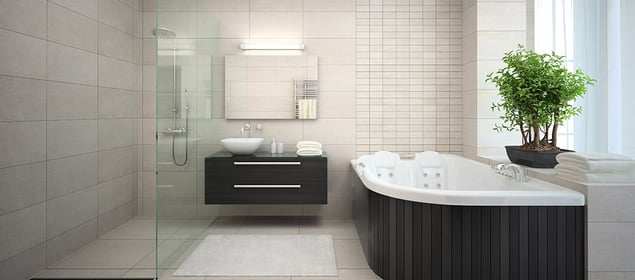 Installing a fresh, modern bathroom is an excellent way to boost the value of your home. However, bathrooms are one of the more complex (and costly) room renovations you can do. But when it is done right, the ROI can be as high as 50 per cent1, which is why it is wise to plan well ahead.
To help, here are five vital elements to cover during your planning phase.
1. The layout
When redesigning your bathroom, make sure that you give yourself enough space. You'll need room to get dressed and undressed, to towel off, as well as storage space. If you're short on space, it may not be practical to have a combined bath and shower, and toilet with hidden cistern. As a general rule, ensuites are usually too small for a bath. Adding one can cause the area to become cramped.
Tip: Make sure both the shower door and entry door have enough room to swing open fully.
If you are planning to completely alter the layout of your bathroom, consider that you may also have to modify your plumbing, which can cost. Installing a new shower, for instance, can price between $250 and $920 depending on the type of shower; a new basin, $490 to $840; a bath, $1,100 upwards2—and that doesn't include the cost of the new fixture itself.
Tip: Pipes can degrade over time, so if you're renovating an older house, it may be worth having a plumber inspect them to make sure they're still in good condition.
Wet and dry zones
Try to keep the wet zone of your bathroom (the area outside your bath and shower) away from the path to your sink and vanity. No one likes getting wet socks when they come in to brush their teeth.
Renovating more than your bathroom? Our free online Home Renovation guide can help you plan those larger projects.
2. Toilet position
If you are moving your bathroom to a different area in your house, keep in mind not to have its entrance lead directly off your lounge or kitchen. No one wants to have a line of sight to the throne while eating dinner.
Meanwhile, if you're changing the layout of your bathroom without the aid of a professional designer, try not to have the door open onto the toilet. The best bathroom designs are the ones that don't put the toilet centre stage. Instead, they lead the eye to something else, such as a bathtub or vanity, and hide the loo in the corner of the room, behind a semi partition or your vanity or sink.
3. Ventilation
If you don't have a window, it is mandatory to have some kind of ventilation system installed. Ideally, have both.
Good ventilation is crucial if you want your bathroom renovation to last. Without it, moisture will take root. Mould can form on your ceiling and on the grout between your tiles, and leave your bathroom looking shabby. If you have any timber-based materials, a vanity for example, you may find excess moisture will warp the wood or strip away its protective varnish or laminate.
Most of all, excess moisture is a health risk.
"Inhaling mould fragments or spores can inflame the airways, causing nasal congestion, wheezing, chest tightness, coughing and throat irritation," writers Massey University's public health professor, Jeroen Douwes3.
In short, good ventilation is better for your health and your renovation in the long run. Don't skimp on it.
Determining the power requirements for your ventilation system
If you install an extractor fan, be aware that your bathroom size can determine the power of ventilation system you need. Two factors will determine the type of fan you need:
Air changes per hour (ACH): The number of times the air in a given room is completely replaced. Bathrooms require between 11 to 15 air changes per hour.
Extractor air flow rate: The amount of air an extractor can remove in a given time, usually in either litres per second or cubic metres per hour. In New Zealand, the minimum extractor air flow rate for bathrooms is 25 litres per second or 90 cubic metres per hour4.
To calculate what strength you need your extractor fan to be:
Determine the volume of air in your bathroom: height X length X width. For example: for a bathroom 2.4m x 4m x 3m = 28.8m³.
Multiply this volume by ACH (always use the higher number, so 15): 28.8m x 15ACH = 432m³ per hour is the minimum amount of air your extractor fan needs to remove when in use.
To convert to litres per second: m³/hr ÷ 3.6 = l/s, or 432m³ ÷ 3.6 = 120 litres per second.
Tip: Underfloor heating can help reduce moisture levels in the bathroom.
4. Waterproofing
Just like ventilation, waterproofing is vital to keeping your renovated bathroom in good condition. Poor waterproofing can lead to mould and fungus growth as well as water damage to walls and floors. Moreover, leaks can go unnoticed for years and cause serious structural damage to your home.
Read more: How to waterproof a shower
Waterproof membrane: minimum coverage
To prevent leaks, mould and fungus growth, place a waterproof membrane behind and around all wet areas, namely around your shower and/or bath.
Showers
Baths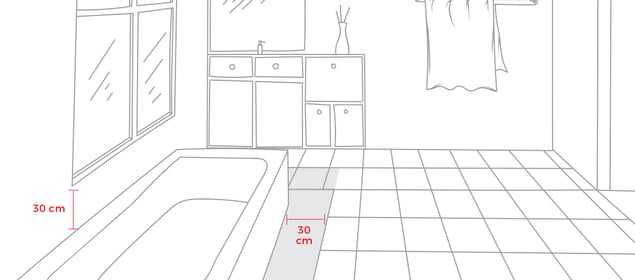 For further detail, see the BRANZ information guide on waterproofing.
5. Storage
Lack of bathroom storage can quickly cause a new bathroom to become cluttered, in turn making it less functional.
While a floating vanity can help a small bathroom feel larger, keep in mind that you may be sacrificing some storage space. Towels and toiletries take up room, and many of the items you'll want to have within easy reach when you use the bathroom. If you opt for the floating vanity, consider including another storage option to compensate for it, whether it's shelves, a cupboard or a free-standing cabinet.
6. Start at the top
Like all interior rooms, you should start your renovations at the top and work your way down. For bathrooms, in particular, this can include:
removing mould
upgrading your lighting
installing a new ventilation system
installing a skylight
re-gibbing and/or adding coving
repainting.
Tip: When painting your bathroom, use a paint system designed to accommodate wet areas. The Resene kitchen and bathroom range, for example, has added anti-bacterial and mould protection to minimise bacteria and mould growth.
Renovating to sell: bathroom checklist
Functional layout
New vanity – floating, or full to the floor?
New mirror – what height? Combined with a medicine cabinet? Task lighting?
New sink – double basin?
New tapware – mixer or individual taps?
New flooring/tiles replaced or cleaned and regrouted – underfloor heating?
New lighting and heat lamp
New shower (bath optional)
New window or skylight – curtained or frosted glass?
New toilet – wall mounted or separated into a new room?
New ventilation system
Showerdome?
Storage solutions – Shelves? Cabinets? Free standing?
Heated towel rail
Electrical points
New hot water tank
Fresh paint
Plumbing checked
Download our home renovations guide for more tips and tricks on planning a stress-free renovation!