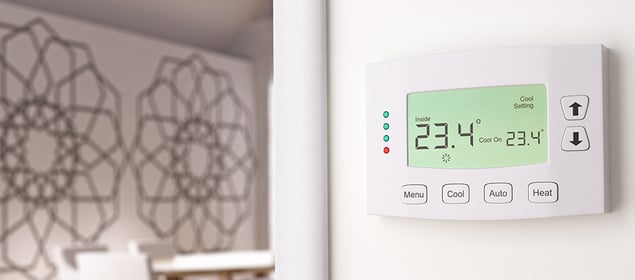 Under the Healthy Homes Standards, landlords must provide fixed heating capable of maintaining 18 degrees celsius in the main living area of their rental properties.
However, working out whether your rental property meets the required minimum heating capacity can be tricky. Luckily, Tenancy Services have developed a useful heating assessment tool. But there are a few common FAQs to consider before diving in.
Read more about the heating requirements and deadlines here.
Measuring up your main living area: common FAQs
What if I have more than one living area?
Since living areas can be any space that's used for general living, such as a kitchen-dining room, a lounge, sitting room, or rumpus room, it is likely that many properties will have more than one "living area". In these cases, use the largest one.
What about the spaces that run off my main living area (i.e. hallways)?
Anything that is always open to the main living area, such as hallways, stairwells, an open-plan kitchen, are considered part of that area. In short, if you can't close off that space, it is part of the living room. If you can close it off, for example with a door, you don't need to include it.
What about my stairwell that goes up or down to another level?
The main living area only includes spaces on the same level as it.
What about windows?
Between 10 to 20 per cent of heat is lost through windows, which is why the new heating standard requires landlords to incorporate the number of windows, their size, glazing type (i.e. single or double glazed), when calculating their heating requirements. If you have several windows close together, you can opt to enter them as a combined window, or individually.
Important! Make sure to include your window frame in your measurements.
---
Confused over the new Healthy Home Standards? Download our free guide here.

---
Compliance: common FAQs
While the standard's minimum heating requirement states that the living room heater must be fixed to the house (i.e. no portable heaters) and provide a heating capacity of at least 1.5kW (1500 watts), there are a few caveats landlords should be aware of, particularly if they already have heating installed.
Can I 'top up' my existing heating?
If you've done your heating requirement calculations and found that your current heating device doesn't meet the standard then there is an option to add another heater to the main room, provided that:
Any existing heating was installed prior to 1 July 2019.
the required heating capacity is more than 2.4 kW.
a 'top up' required is 1.5 kW or less.
For example, if you currently have a 2kW heating device installed, but your calculations reveal you need 3kW of heating to keep an open plan kitchen-dining-lounge at the 18 degrees celsius minimum, you can install a second smaller fixed heater in the room.
Important! Your second heater must also meet the requirements of the Healthy Home Standards.
What do you mean by "fixed to the property"?
The heating device must be physically secured to the home, e.g. mounted to the wall. However, it does not need to be wired into the property. For example, you can use a plug-in heater, so long as it is secured to the home.
What are the most cost-effective heating devices?
According to Energy Wise New Zealand, heat pumps are the most cost-effective heating devices, followed by Flued Gas Heaters (natural gas) and wood burners. To help you assess cost, here is a list of approximate pricing for each heating type1:
Electricity 19-40 cents per kW
Firewood $50-150 m3
Wood pellets 55-93 cents per kg
Natural gas 5.4-11.2 cents per kWh
LPG (45kg bottles) $92-110 per refill; LPG (9kg bottle) $27-42 per refill.
Important! Under the Healthy Homes Standards, heaters must not be an open fire, unflued gas heater or another form of unflued combustion heater.
I am planning to renovate my property after 1 July 2021; do I need to comply by the deadline?
In short, no. However, you must show evidence that you intend to renovate (e.g. consent forms) and this exemption only applies for a limited time.
For more information on the HHS and how it may impact your rental property, contact your Lodge Property Manager or download our free guide below!
Energy Wise, 19 August 2019.