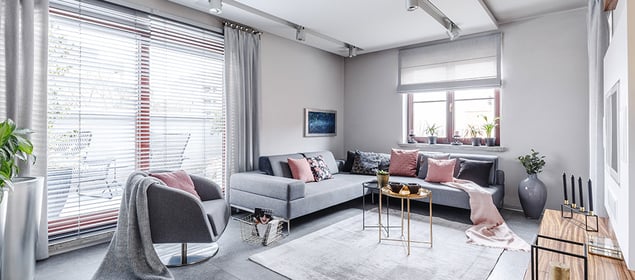 You've heard it all before: new paint, new carpet, new open-plan, but what kind of options do you have beyond these basics in your living space renovations?
We've taken a look at some of the lesser-known tips and tricks for your living room and bedroom, and collected the best (and most valuable!) here for your consideration.
Living room design
1) Form and function
Consider the function and feel of this room. Will this be a family room required to accommodate children, or will it be a more formal, adults-only space? Do you want it to be a private retreat, or an open-plan entertaining space?
This decision should impact all of your future choices, from materials to layout—keep it consistent, and don't try to make the lounge all things to all people. If you're looking to maintain or increase value for your home, keep the needs of your potential buyers in mind as well.
2) Size and scale matters
If you have a large home, then it makes practical sense to have a large lounge. The opposite is also true. Being mindful of size and scale will help you achieve a balanced layout and avoid the challenge of trying to squeeze a six- or seven-person household into a smaller living room! Size and scale should also be kept in mind when it comes to choosing furniture for the lounge area—big furniture can make a small lounge look even smaller, while small furniture makes a large lounge seem empty.
Read more: Our complete guide to planning home renovations


3) Longing for longevity
The living room is generally a high-traffic, high-use area, so it pays to choose materials for longevity and durability. Wooden floors, for example, are are generally quite durable and are good for those who suffer from allergies, but people who wear high heels regularly or have dogs and other pets may find they get scratched.
If you decide to go for carpet instead, there are a range of choices, each with their own pros and cons. Wool is soft and economic, but can dent and stain easily—not good for those with young children. Nylon, on the other hand, repels water and is hypoallergenic, but isn't always considered as comfortable.
4) Lighting
Unlike other rooms in the house, living rooms tend to be used at all times of the day for a wide array of reasons. Therefore your choice in lighting is particularly important. Flexibility is key to ensure that the room can be enjoyed in the morning, afternoon and evening equally—dimmer switches are a good investment, potentially with a selection of brighter, more task-oriented lighting if the living area also functions as a work space.
5) Keeping the fireplace
One last point to note: if you have a fireplace in your home, think twice before removing it during a home renovation. Once it has been removed, you can't install another one.
Bedroom makeovers
6) Built-in furniture
One of the most common mistakes in bedroom renovations is in furniture choice. Space is often at a premium in these smaller rooms, but all too often people choose bulky, inappropriate furniture that takes up more space than is necessary.
Consider using built-in furniture as an alternative, particularly those that serve dual functions: a window-seat with built-in storage drawers, rather than a desk, is a good example; or the classic walk-in wardrobe (though you will need a significant amount of space in the first place to install one). This furniture style keeps the flow of the room more natural and avoids unnecessary clutter.
7) Lighting
Bedrooms benefit from natural light more than any other room in the house. This is closely linked to the often-limited space available in most bedrooms. An investment in an additional window or an expansion of an existing window is usually a valuable option. This also helps with ventilation, keeping the room both bright and airy. Replacing curtains with blinds can help further open-up the room.
For bedrooms that lack natural light, you may want to consider incorporating mirrors into your makeover. Mirrors will help make the most of what light is available and make a bedroom feel more spacious.
Tip: As well as having a switch for a bedroom's primary source of lighting by the door, have one located near the bedside for convenience and easy access.
8) Doubling down
Generally, the more bedrooms a home has, the more valuable it becomes, sometimes to the tune of hundreds of thousands of dollars1. However, this does depend on a range of factors, perhaps most importantly the ratio of bedrooms to bathrooms: a 3-bedroom, 1-bathroom home is unlikely to benefit significantly from an added bedroom—unless it came with an ensuite. Contrary to popular belief, there is such a thing as too many bedrooms for some homes.
Rather than extending the footprint of your home, it can be a better idea to adapt the existing internal structure to incorporate an additional bedroom instead. An attic or basement conversion is an excellent option, but it's also possible to simply split an existing bedroom in two with a separating wall. This is obviously only an option for larger bedrooms, but if you are looking to get a separate bedroom for the kids, or want to increase value, this "subdividing" can be a simple but effective method to do so.
9) Rethink colour and texture
Colour is part of any classic renovation for a reason: repainting a bedroom (especially a guest bedroom) in cool, calm, neutral tones is an effective way to reinvigorate a space and make it feel more inviting.
Read more: The best painting techniques to paint a house like a pro
For those renovators already familiar with the benefits of a neutral colour palette, you may want to consider introducing a feature wall. Painting or wallpapering one wall a starkly different colour or texture is a surefire way to cement your home in the minds of guests and potential buyers. When it comes to children's bedrooms, chalkboard paint (available in a variety of colours) can liven up a room by providing a creative outlet.
The same theory can be applied to ceilings, especially if the bedroom is an attic conversion with the cosy arch of a roof overhead: paint the rafters or the ceiling a deep, dark, warm colour or strip them back to reveal the timber and anyone sleeping in your bedroom will redefine what they think of as "comfort".
For more information on planning a stress-free renovation, download our free guide below.
1. Westpac, 2015