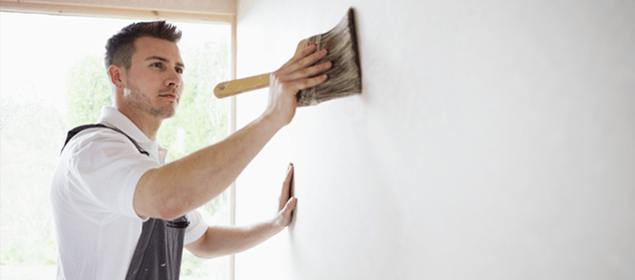 Repainting your home is one of the easiest ways to increase its resale value. Whether it's just one room or your entire house, these house painting techniques and pointers can help you get the finish your home deserves.

Before you start
Get out the tape measure. To avoid running out of paint halfway through the job, work out the size of the area you'll be painting, including any skirting and interior cupboards. Here's a handy paint calculator to work out how much you need.
Get the right tools for the job. Nothing is worse than starting a job, only to find you're missing a crucial bit of kit. Consider everything you'll need—cleaning and cover cloths, latex gloves, rollers, brushes, paint scrapers. Here's a list of recommended painting tools to get you started.
Tip: use a thin nap roller to apply glossy paint. For a matt finish or for painting over rough surfaces, go with a thick nap roller.
Make use of paint test pots. Use test pots to paint small sections of your wall to see how they look in your room. Some colours, such as yellows, can often dry darker than expected. Try out as many colours as you need until you find the right one.
Consider the light. Paint a piece of plasterboard and place it around your room (or house), to see what the colour will look like under different lighting conditions (natural, artificial, overcast, sunny).
Prep your walls. Get rid of any dirt and dust with a vacuum cleaner or towel, and use a bit of water and soap mix (sugar soap works well), to remove grease and scuff marks. Take a paint scraper to any flaking, peeling paint and fill in any cracks or holes with a gap filler, then sand it back so it is smooth against the wall.
Prepare your home for painting. Remove furniture, knobs and fittings. Cover the floor and any skirting to stop it getting covered in paint. Last of all, place masking tape on the edges of the skirting for a nice sharp edge once you're done.
One last clean. Rub a tack cloth over the wall to get rid of any dust or dirt that has appeared since your first clean.


Once you've started
Prime your walls. A primer will help the paint adhere to the wall and will give an overall better finish.

Tip: use tinted primer if you plan on painting a bright colour over it, as it will make the colour more vibrant.

Always do the cut-in first. Otherwise known as edging. Since the roller won't fit, you'll need to go around the edges of the wall (and corners of a room) with a brush. Do this first with both the primer and paint coats.

Start painting. If you're painting a whole room, paint the skirting and ceiling first, then move onto the walls. Just remember you'll need to do the skirting separately, let it dry, and then cover it if it's a different colour to the rest of the room.
When using a roller, paint in an overlapping 'W' shape. This helps avoid roller lines on your wall. Once you've started a wall, don't stop half way through as the paint can't be blended once it's dried, which will leave dark patches on your wall.


Final advice
Don't rush. Interior paint takes 24 hours to dry and 30 days to fully cure. If you plan to add an extra coat, wait until the paint is completely dry.
Save time, paint and brushes. Instead of throwing away wet brushes and rollers, wrap them in cling film or aluminum foil and put them in a refrigerator, to stop them drying out.

Tip: if you wash your brushes, wrap them in newspaper after to avoid the bristles getting splayed out as they dry.


There's more to preparing a home for sale than learning how to paint a house! Discover home decor ideas and tips for presenting your property at an open home in our FREE ebook, The Waikato Home Seller's Guide.