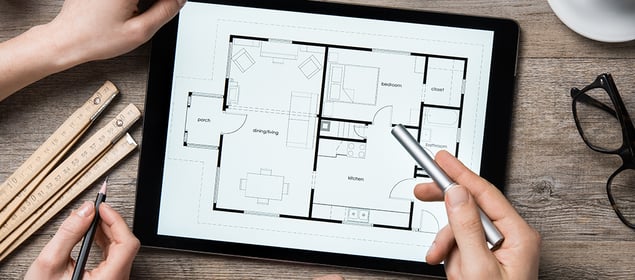 Know what you want, but can't find it? Instead of hunting day-in-day-out for your dream home, perhaps it's time to consider building a house. However, if you're still on the fence about whether to buy or build your next home, these five key benefits should convince you.
1. A new house is personalised to you
Rather than spending weeks, months—or even years—shopping around for a home that has all the features you want, building new means you can get it all without having to make sacrifices or compromises.
From the floor plan to finishings, you can control what goes into it. Want a big kitchen? No problem! What's more, you can design it to cater to your current and future needs, as opposed to modifying an existing home.
2. A new house meets the latest building standards
Building codes have changed over the years, and not all existing homes meet today's standards—especially older, colonial style homes. There are new insulation requirements, weathertightness requirements and improved structural codes to meet. What's more, the new codes don't just apply to the house, but also to ancillary dwellings, garaging and decking too. With a new build, you won't need to worry about upgrading your home to ensure it is safe, dry and comfortable to live in.


Recommended reading: Top 20 FAQs on building a new house and home construction insurance.
3. New and improved materials and products
Modern home builders are no longer limited to traditional building materials. New and improved options are now on the market, which offer improved comfort and durability—and less maintenance. There are a vast number of options too, from double-glazed windows and hybrid-plank flooring to engineered stone countertops and uPVC weatherboards.
It's not limited to materials either, instead of inheriting an old stove and water heater, you'll instead install newer and more efficient models. The upshot is, with a new build there's no need to rip out and replace worn and outdated materials and appliances; you'll have the new and improved versions from day one.
4. Smarter design—and smart technology
Home design has evolved in leaps and bounds in the last thirty years, particularly with the introduction of passive design in the 1990s. Passive design elements, such as home orientation, window positioning and sizing, and the use of materials with high or low thermal insulation, are now creating homes that are less reliant on artificial heating and cooling to keep them comfortable.
Let's not forget the opportunity to incorporate smart technology in your new build too. From smart appliances and climate control to lighting and energy management, opportunities abound to incorporate these features into your new build to make your life easier.
5. Capital gains potential
According to homes.co.nz, it's home builders—not buyers—who stand to benefit from the biggest capital gains increases. In examining the gap between vacant land prices and the cost to build, they found that across New Zealand, new built homes netted $150,000 on average in capital gain.
Adding value to a home to increase its value—and therefore it's capital gain potential—is often a difficult and expensive exercise. It usually involves renovation work, extension, remodelling and upgrading the home's facilities to squeeze every dollar of value from the property. Even then, the gains are often minimal—at least when compared to the gains you can make on a vacant section that had no house on it to begin with.
When homes.co.nz looked at Hamilton and compared the cost of purchasing a vacant lot and building a 140 per square metre, 3-bedroom home on it to buying land with a pre-existing home of the same dimensions, the difference amounted to $157,285, or $2246 per square metre*.
*As of April 2017.
Important note: Don't confuse capital gain with inflation. Property prices will always increase over time, usually doubling once every seven to ten years. Your home's value may double, but so will all the others in the market.
As newbuild.co.nz points out: "Many homeowners may find that when they sell up in ten or 20 years time that they have not really gained much if any equity, but have just kept up with the market."
Thinking about building a new house? Check out our free guide on new build pitfalls to avoid so your next home goes up without a hitch!