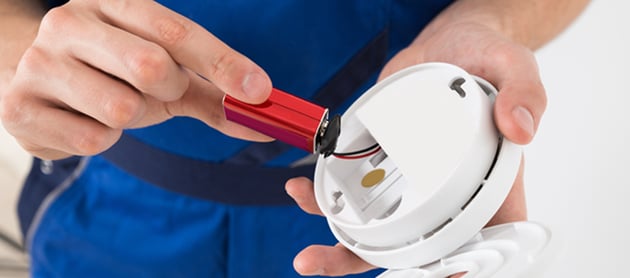 Don't get caught out with the changes to Residential Tenancies Act. Whether you're thinking about investing in a rental, are preparing a property for tenants, or are already a landlord, check you've got the right things in place. After all, a healthy home encourages longer tenancy—which improves your return.
1. Smoke alarms
Between 2011 and 2015, the New Zealand Fire Service found that 75 percent of all avoidable fire fatalities were in rental properties. They also noted from 2013 to 2015, three-quarters of fatal house fires were in properties that did not have working smoke alarms.

Which is why all rental properties must now have smoke alarms. As a landlord, you must make sure that your property smoke alarms are fitted within three metres of a bedroom, and in any sleep outs, including caravans.

What kind of smoke alarms?
The alarms must be long-life photoelectric with at least eight years battery life. If you're unsure, check out Tenancy Services for more information.

It is both your job and your tenants' to make sure that the smoke alarms are kept in working order. Failing to comply with these laws could earn you a fine up to $4,000 and your tenant up to $3,000.

2. Insulation
Cold homes are a major problem in New Zealand. The latest insights show that almost half of New Zealand adults reported their homes were either sometimes or always cold. The same report also found that just under half of those who rent had issues with damp and mould. It's why new laws for insulation in rental properties are set to come into effect from July 2019.

These laws will help create drier, healthier environments for individuals and families who rent—particularly children.

Where do I need to insulate?
As a landlord you're responsible for fitting insulation in the ceiling and under the floor of your rental home. Exceptions are given under certain circumstances, such as limited space under the floor, or inaccessible ceilings. You can find out more here.

You'll also need to provide a summary on the state of your insulation in your tenancy agreement.

As a landlord, if you rent out a property without adequate insulation after July 2019, you could be fined up to $4,000.
How Lodge can help
When properties and tenants meet certain criteria, we can help you subsidise the cost of insulation. Subsidies are usually between 60 and 100 per cent, depending on your circumstances.
You might be interested in our guide: Rental property management: what new landlords need to know
3. New enforcement powers for tenants
Unfortunately, a small minority of landlords do not keep their rental properties maintained to a liveable standard. And with 30 per cent of New Zealanders renting their home (Census 2013), there are a lot of people at risk of ending up in a sub-par rental.

Changes to the Residential Tenancies Act now mean that landlords can be prosecuted if their rental breaches basic housing standards, particularly if a property poses a significant health or safety risk.

On a more personal level, landlords who persistently or seriously breach the Act can also be prosecuted. For example, not keeping a rental property in a proper state of repair, or failing to install smoke alarms.

If a work order is given:
If the Tenancy Tribunal does give you a work order, there are new rules regarding these too. As a landlord, you can no longer 'pay off' your tenants to ignore the issue—you must address it. If you don't do the work, tenants can give their rent to MBIE rather than you, or do the work themselves and offset the cost against their rent.

In a nutshell, failing to do a work order means less, or no, rent in your bank account.

But the pendulum swings the other way too. If your tenant receives a work order and fails to comply with it, you too can pay for the work needed (to the value of the order), and then treat the costs as overdue rent.
Important note: you will need to seek permission from the Tenancy Tribunal to do this before the work order is given.


Stay up-to-date with changing trends, laws and the rental market our free ebook,
The Landlord's Handbook.