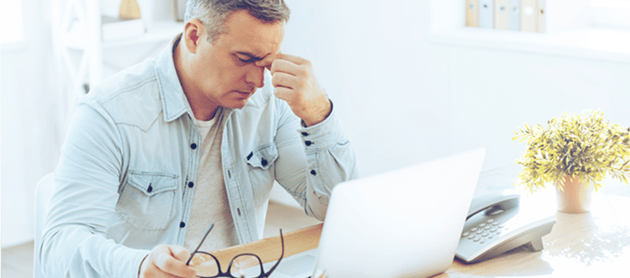 There's no skirting around it. Self-managing a rental property is stressful, especially if you're trying to fit it around another job. In the UK, a study found that 25 per cent of landlords found self-managing more stressful than they first anticipated. While a little stress isn't a bad thing, too much can have an impact on your health, your relationships and your investment.

The problem with stress
Think you're ill? You may be just stressed. In small amounts stress can aid focus and give us bursts of energy. However, over prolonged periods it can have a significant effect on your health. What's more, the physical symptoms of stress can be quite flu-like. Common symptoms include fatigue, headaches, an upset stomach, muscle tension or pain, and insomnia. And yes, in extreme circumstances, stress can make your hair fall out.
Prolonged or chronic stress can also have more long-term effects on your health and behaviour. It can lead to restlessness, anxiety, depression, anger—almost every negative mood in the book—and can contribute to high blood pressure, heart disease, obesity and diabetes.
Want to understand stress better? Learn how prolonged stress can affect the body.


Top causes of landlord stress
With recent changes to the residential tenancies law and new health and safety regulations added into the usual tumult of landlord responsibilities, it's clear that landlords have a lot on their plate. However, some responsibilities can cause more headaches than others. In our experience, the top causes are:
Rent arrears
Chasing tenants for overdue rent is time-consuming and exhausting—and that's before you look at the books. Buying a rental property is a huge financial commitment and not being able to make ends meet because of rent arrears is a recipe for pushing landlord stress levels into the red.

You might be interested in our guide: Rental property management: what new landlords need to know
Troublesome tenants
Many landlords agonise over the risk tenants can pose to a property. And rightly so—the horror stories are out there. While it's comforting to know that most tenants will take care of a property, those who don't can leave landlords out-of-pocket in the cleanup.
Repairs and maintenance
While maintenance can be scheduled and managed (time-consuming in itself), the emergency repairs at any hour can take a toll. Failing to keep a rental in good condition can lead to disgruntled tenants, potentially having to go through the Tenancy Tribunal, and of course a loss of property value.


Three ways to reduce landlord stress
1. Screen your tenants properly: a rigorous screening process is the best way to find good tenants. Check their references from employers and previous landlords and always run a background and credit check.
2. Get landlord insurance: if you're looking to sleep easier, get landlord insurance. Most packages cover sudden and accidental damage, hidden graduate damage, P contamination, loss of rental income—basically most of the risks that come with letting to less-than-ideal tenants.
3. Hire a property manager: the great thing about property managers is that they can do both the above points for you—and more! They'll collect rent, be the go-between you and your tenants, and take on the burden of maintenance and repairs. Best of all, they remove the stress and emotion of running a rental property, which gives owners the head space to make the best decisions for their investment. So, if you're looking for the easiest and most stress-free way to manage rental properties, enlist the help of a professional.