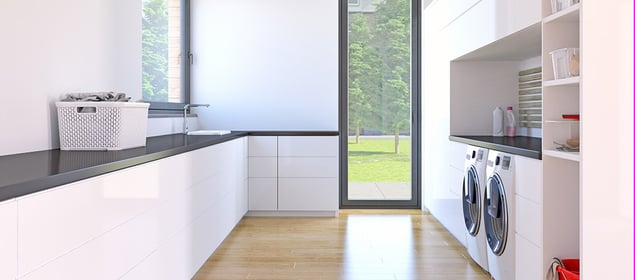 After the kitchen, bathroom and living areas, the laundry might seem like the last renovation on the list. But rather than rushing through it, it's worth taking the time to consider how its design and features will tie in with the rest of your home.
Here are four considerations to help you maximise your laundry's usability and space.
1. Make it on the ground floor
The last thing you need is water damage seeping through your home from a leak on the floor above. If it goes unnoticed, you could be left with water stains coming through the ceiling and a costly repair bill that your home and contents insurance may not cover.
Water leaks, from a washing machine or leaky pipe, for instance, fall into what's known as gradual damage—that, is, damage done over time. Some insurance providers do not cover this or only cover a small amount (between $2,000 and $3,000).
If you have the option, position your laundry on the ground floor. If you have a second storey, also consider installing a laundry chute so you don't have to lumber down the stairs with a dirty-clothes basket.
Tip: If you plan to replace your laundry floor, make sure you use a waterproof membrane and waterproof flooring (not water resistant).


Get your renovation planned and organised with the help of our free Home Renovation guide.
2. Ask: is it a laundry or should it be more?
A laundry can be more than a home for your washing machine and dryer. Will it serve as a airing space as well? What about folding and ironing? The laundry can also make for a great place to store cleaning equipment (mops, brooms, vacuum cleaner, chemicals) linen, pet supplies, sporting equipment, extra fridges and freezers, as well as doubling as a wet room.
The best laundry designs are those that balance space with functionality. With this in mind, you could choose to include the following features to make your laundry a highly functional area:
Sliding hampers to keep unwashed clothes out of sight.

Extra storage space (because you can never have too much of it).

Bench space to aid day-to-day use (a resting place for folded clothes for example).

Airing rail to hang shirts.

Power outlets—but think carefully about where you'll place them, especially if they're close to the sink!
With the right planning, you can make this space a useful utility room that can serve out multiple functions rather than just your washing.
Tip: Take some of the colours from your kitchen and use them your laundry, such as the same colour splashback and benchtop. This helps give a sense of continuity to your home's overall design.
3. Plan out your plumbing
Like bathrooms and kitchens, laundries can involve extensive plumbing. If you're planning on changing the layout of your laundry, it pays to design your new laundry around the critical plumbing points, namely your water supply points and waste water outlet. It is possible to move these points around, but this comes at a cost.
It's also worth checking the condition of your pipes. Again, leaks from deteriorated pipes can cause major damage and ruin a freshly renovated laundry.
4. Big appliances to save on time
If you have a family, it can pay to get a washer and dryer that can handle large loads, because, frankly, you have better things to do than run fifteen loads of washing on the weekend. If you plan to have a dryer, keep in mind that it may have an external vent that will need to be kept clear.
A large deep sink or tub can also give you room to soak items of clothing, fill up buckets, rinse off odd items and so on.
If you're buying new appliances, look for ones that have high energy star ratings too. You'll make up the extra money you spend to purchase with lower energy bills.
Tip: Use lighter colours in the laundry to make them feel brighter and more open. Not only are laundries generally smaller spaces, but they are also often located on the southern side of the house and can suffer from a lack of natural light which can make them feel cramped.
Renovating to sell: laundry checklist
Washing machine – front or top load? Front loaders require a bit more space for the door to swing open.

Dryer – will this be positioned above your washing machine, or stand next to it?

Airing rack/rail

New cabinets – big enough to store the ironing board? Sliding hampers?

New deep sink

New tapware – a long-neck mixer with a detachable spray head adds functionality.

New benchtops

New waterproof flooring

New lighting – natural lighting and task lighting

Plumbing in good condition

Fresh paint. Consider using a product Resene Lustacryl Kitchen & Bathroom which has anti-bacterial silver protection and mould defender.

All approvals, consents and documentation ready to go.
Download our home renovations guide for more tips and tricks on planning a stress-free renovation!