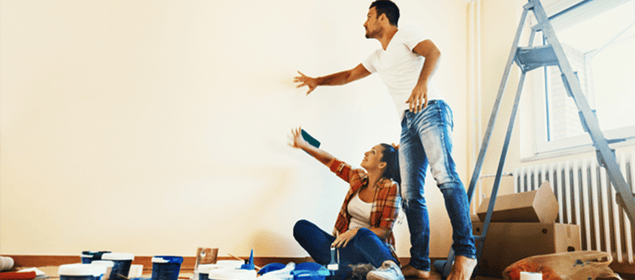 If you're preparing to sell your home, addressing your weakest home features is going to help you attract more buyers. More buyers mean more competition, and more competition means a better chance of drawing top dollar offers for your home.
So, if you're wondering how to sell an unattractive house, here are a few home improvement tips to address those common flaws.
Cracked plaster
Superficial cracks in your ceiling and wall plaster are easy to overlook, but they can cause a lot of buyer angst. As a homeowner, you might have lived with it for years, but when it comes to selling, these cracks will kill your home's appeal.
"A buyer is going to look at that crack and think: 'what is the cause of that? Is something structurally wrong here?'," says Jeremy O'Rourke, director of Lodge Real Estate. "It makes them second guess the property."
How to fix:
The good news is that superficial ceiling and wall cracks are relatively easy to fix. All you need is a few simple tools and some plaster compound. If you want to do it yourself, you can learn how to here.
Awkward spaces
Nearly every home has that awkward space that no one knows what to do with. Sometimes it's the area under the stairs, a small corner, or an odd little alcove by the front door. But with a bit of clever styling, you can make the space look better utilised.
How to fix:
Small corners and nooks—if it's near the door, why not turn it into a key holder space, a coat rack, a piece of simple signage, or all three?
Under the stairs—there are loads of creative ways to make use of the void under your staircase. Consider installing a wine rack, book shelves, a small study or reading nook. If you have stairs near the entrance of your home, consider putting a low stool in place for people to sit down on to remove their shoes.
Small walls—rather than ignoring a small wall, turn it into a feature with a bit of art, a blackboard or pin board, or a piece of furniture.


---

Looking for more home improvement tips? Check out our home renovation guide.


---
Small rooms
Small rooms can turn into a real weakness if you've outgrown your property. It's not uncommon to see a three-bedroom and one office home become a very tight four-bedroom property. When it's time to sell, the trick is to return these spaces back to what they were originally designed for; a lounge as a lounge, not a lounge come office space.
"Large beds and oversized couches might be nice and practical while you're living in your home, but when you're selling, it can make these spaces seem small and cluttered," says Jeremy.
How to fix:
Before you resort to a full interior redo, there are a few ways to make small rooms appear larger.
"Mirrors are great for making a small room feel bigger," says Jeremy. "Swapping out a double bed for a single one in a small bedroom and replacing an oversized couch with a smaller one in the lounge will also help give your home the biggest feel."
"We've got a number of home stagers who are really good with this sort of thing—as well as some of our agents."
Lack of storage space
Storage space is premium among buyers. So, what do you do if your home doesn't have much of it to spare? It's a common problem among homeowners who have outgrown their homes.
How to fix:
Start with a good declutter and consider hiring external storage to avoid drawing attention to the lack of it in your home.
"If there is a lack of storage in the property, particularly for linen and those sorts of things, you don't want them to be out on shelves or clogging up bathrooms," says Jeremy.
Exposed pipes
Once upon a time exposed pipes were unseemly, and to be fair, sometimes they still can be.
"We've seen a bit of it in Hamilton where old commercial properties have been renovated into apartments," says Jeremy. "In some instances, homeowners have chosen to hide it while others have used it as a feature."
How to fix:
Whether you choose to hide or feature your pipes comes down to the style of property you're trying to create. If you're going for an industrial look, don't be afraid to draw attention to your exposed electrical and plumbing pipes. Paint them a bright colour, wrap them in pretend vines and shrubbery, or add more to make them stand out further!
However, if you're after a modern look, exposed pipes are something of a hindrance. To hide them, try painting them the same colour as your wall or ceiling. Alternatively, box them out with a wall, shelf or piece of furniture.
Looking to sell in the next few months? Declutter and stage your home yourself with our free guide: Three steps to generate a higher home sale.