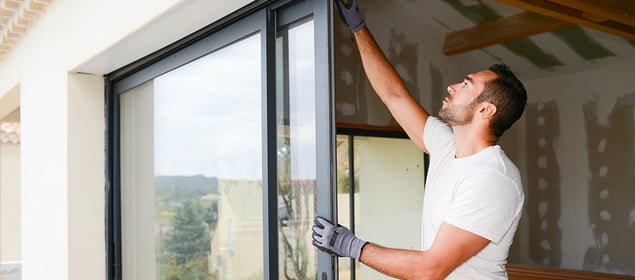 Under the new Healthy Homes Standards, any landlord offering a new or renewed tenancy from 1 July 2021 must ensure their home has no gaps or holes that cause noticeable draughts. But what is considered a "noticeable" draught?
And how can landlords assess whether they need to block or fill in a hole or not?
In this blog, we explore this standard and what the industry says in regards to drafty houses and air-tightness in further detail.
Why the standard?
Draughts are a major cause of heat loss in a home, especially old homes. It's estimated that 15-20 per cent of heat is lost to draughts in old homes (even more if there is an unused open fireplace). Which is why all homes built before the 1960s will need draught-proofing, as will many homes built up until the '80s1.
When is a draught noticeable?
While the Healthy Homes Standards is still working on providing guidelines for landlords concerning the specifics for this standard, the Design Buildings Wiki, which pools the knowledge of the UK's 3 million-person strong construction industry, defines a noticeable draught as a "current of air inside a building that can make its occupants uncomfortable".

It is important to note that a noticeable draught in one climate may not be noticeable in another. Generally, the colder the climate, the less airflow is needed to make a draught uncomfortable.
Here are some typical ranges2:
| | |
| --- | --- |
| 0 m/s | Stationary air. |
| 0.1 to 0.15 m/s and above | May be felt as a draught in a cold climate in the winter. |
| 0.3 m/s and above | May be felt as a draught in a cold climate in the summer. |
| 0.8 to 1 m/s and above | May be felt as a draught in a hot climate. |
---
How to identify draughts in your home
There are several ways to do this. Draughts are best found on a windy day. You can wet your hand and hold it up to potential drafty areas, or potentially light a candle (but be careful with it near your curtains).
Locations to check:
Chimneys and fireplaces.
Between floorboards.
Window frames.
Doors (particularly the strip along the base).
Pet doors.
Skylights.
Extractor fans and rangehoods.
Recessed downloads (particularly if installed before 2012).
Skirting board.
Keyholes.
You may also choose to have a qualified professional come and assess the air leakage in your property with a blower door test. However, this is usually only recommended for new builds or major renovations.
Simple solutions to stop common draughts
Doors and windows
Add weather strips around the frames. Foam and rubber seals are the most common types.
Fit draught excluders to your doors. Use rubber excluders for external doors and brush excluders for interior ones. Alternatively, use a door sausage.
Tighten and/or replace loose hinges, catches and latches.
Install window film.
Chimney/fireplaces
Plug the chimney/fireplace: we recommend getting one professionally fitted.
External
Seal any external cracks and gaps in your window trims, and between scriber and weatherboards with UV resistant silicone.
Floor and ceiling
Make sure there are no gaps in your ceiling or floor insulation.
Seal any cracks in skirting boards with flexible silicon-based or latex sealants.
For more information on the HHS and how it may impact your rental property, contact your Lodge Property Manager or download our free guide below!
1. Ministry of Business, Innovation and Employment, Smarter Homes, 2019.
2. Design Buildings Wiki, Draughts in Buildings, 2018.