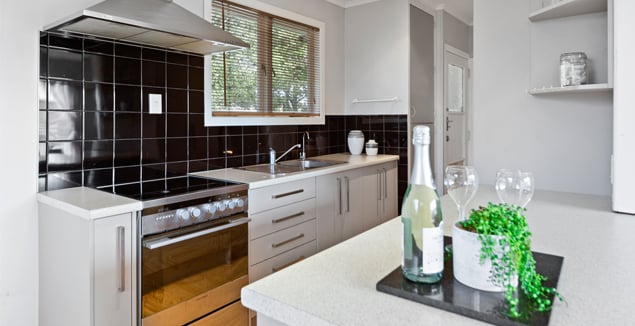 With a little flair and attention to detail, the team at Lodge Real Estate can help you present your property in a way that will have potential buyers flocking.
Lodge agent Brenda Beale recently worked with some vendors, who wanted to sell their 4-bedroom house in Deanwell. The property is a perfect first home, with 4 bedrooms, a modern kitchen and bathroom, and a full section. With great schooling in the area, it's also close to Waikato Hospital.
The vendors started their journey by initially trying to sell the property privately. They put together their own listing on Trademe, pricing the house at $480,000. The listing resulted in a few viewings, but they didn't receive any offers.
The vendors then got in touch with Brenda about doing an appraisal of their property. While the house sounded great on paper, presentation was lacking – there was gym equipment in one of the bedrooms and a clothes dryer in another. At Brenda's suggestion, they invested in partially staging the house to make it more attractive to a family, so potential buyers could envision how it could work for them.
Brenda invited Helen from Castle Home Staging to come over and work her magic. Following a consultation, Helen took care of providing some new bedlinen, side tables and art to improve the presentation of the master bedroom. She also dressed one of the spare rooms as a child's bedroom, the third bedroom as a guest room, and left the fourth bedroom as a home office/second living area.
New professional photos were taken, and the property was advertised on realestate.co.nz and lodge.co.nz, as well as Trademe. The house received a raft of interest, and after more than 20 viewings over the first weekend of open homes, Brenda presented two offers for the vendors to consider.
One of the offers was accepted, and the house sold for $500,000. The total commission on the sale was $17,710, making the vendors' net sale $482,290. As well as achieving a better return than if they'd sold privately, the real benefit was not having to field calls on the house while at work, be home for viewings or negotiate with potential buyers. Brenda took care of everything for the vendors, making it a smooth, stress-free and successful process.
View Brenda's profile here.