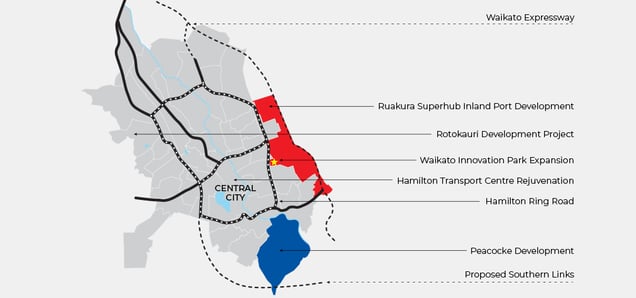 Major infrastructure and community developments can have a long-lasting impact on the housing market. In the space of a few years, they can transform local neighbourhoods into some of the best and most sought-after suburbs in Hamilton.
This blog explores five major projects that will change the face of the Hamilton real estate market and the suburbs set to benefit the most from these projects.
Read more about assessing new developments on our property research page.
1. The Ruakura Inland Port
Stage one of the Ruakura Inland Port is set to open in early 2022 and create 11,000 new jobs and contribute $5 billion to the economy every year. Meanwhile, its sheer size (at over 485 hectares) will increase Hamilton's urban boundary by 8 per cent.
In addition to the new rail port, industrial warehousing and business precinct, the project has also set aside 138 hectares for residential development. This area will hold approximately 1,800 residential properties—predominately free standing townhouse style homes. Moreover, with more land set aside to accommodate future growth, this region and surrounding suburbs, such as Newstead, Fairview Downs, Enderley and Hillcrest, are also likely to experience significant growth in the coming years.
2. Waikato Innovation Park expansion
The Waikato Innovation Park has a $65 million expansion on the way with two new projects — a $20 million new office space and a $45 million food spray dryer—which will grow the park's workforce to over 900 people.
This expansion is part of the Park's master plan to grow Hamilton's home of innovation over the next 20 years to $180 million. To get there, 12 new buildings are on the cards, which will expand the Park's staff headcount to 2,500.
Located in Ruakura, close to the site of the Ruakura Inland Port, the Waikato Innovation Hub will continue to create jobs and draw people to the area for the foreseeable future. Hamilton's Eastern suburbs such as Newstead, Fairview Downs, Enderley, Hillcrest and Silverdale, as well as more central suburbs including Claudelands, Peachgrove, and Hamilton East are likely to experience strong growth as demand increases for housing that is within easy commute of the Ruakura region.
3. Hamilton Ring Road
As the Hamilton Ring Road approaches its final section, this $84 million project is set to significantly ease traffic pressures in Hamilton's eastern areas and provide a transport network through to the future Peacocke residential area.
As part of the project, new facilities, public transport, as well as pedestrian and cycleways are being introduced. This will improve the accessibility and liveability of suburbs along the ring road, particularly Chedworth, Fairview Downs, Enderly and Hillcrest.
"This final stage of the Ring Road network is significant," writes the Hamilton City Council. "It not only improves transport connections in our city for those travelling by vehicles, bikes and on foot, but also future-proofs our transport network for our fast-growing city."
4. Peacocke Development Project
The $308.4 million Peacocke Development Project will see Hamilton's south grow by 3,700 new houses in the next 10 years and 8,100 in the next 30. The development is expected to bring $6 billion in benefits over the next 30 years.
The Peacocke project will also benefit surrounding suburbs. Glenview, Bader, and Melville are likely to see growing demand for residential housing as the Peacocke's construction creates new jobs in the region and workers are looking for homes located within convenient commuting distance.
As a homeowner, it's important to be aware of what major developments are underway near your area as well as those planned for the future. Researching their potential impact on your neighbourhood is essential to making you next move, as what you find may influence your decision to buy, sell or invest.
To find out more about Hamilton's future developments, visit the Hamilton City Council and Hamilton Invest websites.
5. Rotokauri Development Project
Up in Hamilton's north-west corridor, a new development is taking shape. Rotokauri is set to deliver up to 1800 (numbers vary) new homes over the next fifteen years. The first sections at Rotokauri Rise—slated to include 900 of these new residences—with the first 131 land and house and land packages already on sale in the first stage release of the project.
The Rotokauri development will also include an industrial area, a suburban retail centre, three new schools, three sports parks, and multiple parks and nature reserves.
Read more: Rotokauri Structure Plan, Hamilton City Council
Want to make smart, informed decisions about your property? Download our free guide and learn what detailed, suburb-specific insights you need—and where to find them!