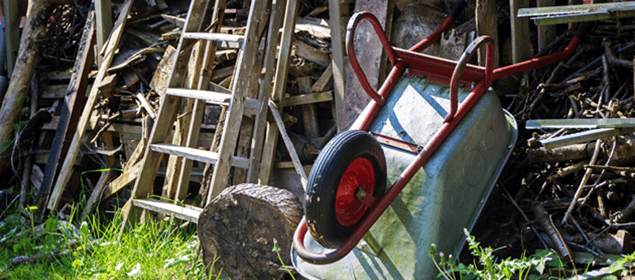 If you've sold a house before, you're probably already aware of the main factors that can influence the value of your property: a clean house, decluttered rooms, updated decor, home staging and so on. But have you thought about those slightly left-of-field things that often catch vendors by surprise?
Here are three home selling mistakes that are all too easy to overlook:
1. Forgetting to present the backyard
We all know first impressions count—and it's especially important when selling a home. Presentation is everything.
"Buyers are trying to connect emotionally with a property," says Jeremy O'Rourke, director of Lodge Real Estate. "But it becomes hard and distracting to do that when there's mess or the property is not well presented. In winter especially, it's easy to forget about the yard, since you're unlikely to go out there often. But your buyers will."
As a seller, take a step back from your home and view it with a critical eye. It's easy to let leaves and debris collect outside and on your doorstep, or leave the pool uncleaned.
"Decks are another big one," says Jeremy. "We keep them pristine during the summer, but in winter, they're often left and sellers don't think to furnish them well. They can grow gunge and mould, and that's something you don't want your buyers to experience.
"These outdoor areas need to be as well-kept and groomed in winter as we keep them in the summer—better even."
Tip: Have you checked your outdoor drainage? With the Leaky Homes crisis still weighing heavily on buyers' minds, a waterlogged backyard could really turn them off your property. The good news is that there are several ways to address this, from changing the composition of your soil to installing outdoor drains.


---

Read the complete home sellers guide.
---
2. Questionable land title
Make sure your land title matches your property. A land title that has no exclusive use zones or reveals unconsented structures can turn buyers away in an instant.
"If a structure hasn't been included on the plan of a property, that can become problematic," says Jeremy.
And as McVeagh Flemming lawyers point out, "it arguably gives a purchaser the right to pull out of an otherwise unconditional sale and purchase agreement."
Vendors can take on the cost of correcting the title themselves (about $5,000) or subtract it from their asking or reserve price. Either way there's a cost, however, keep in mind that non-defective titles are more appealing to buyers.
"If you want to maximise your value, we recommend getting the title corrected and in order so you can get the highest number of people possible competing for your property," says Jeremy.
Tip: If your home is on a cross-lease or unit title, make sure you use an agent well versed in selling these types of properties. Unit titles are not as straightforward as fee simple ones, so having an agent who can outline the advantages of a unit title and answer buyer questions is essential.
3. Poor DIY
If your DIY didn't quite go to plan, don't worry, you're not alone. But if you're planning to sell, seriously consider fixing it before putting your home on the market.
"There are buyers who actively look to take on properties that have gone through a bad DIY so they can re-do them correctly. But they're also looking to buy at a discount because of the inherent risk in taking on the property, fixing it and making sure it's all compliant," says Jeremy.
"Our advice to homeowners is that if you have shoddy DIY or are lacking a code of compliance for areas that should actually have it, get the work corrected," he says. "There is a cost to it, but it is generally much lower than the cost of selling without fixing it."
Looking to sell in the next few months? Declutter and stage your home yourself with our free guide: Three steps to generate a higher home sale