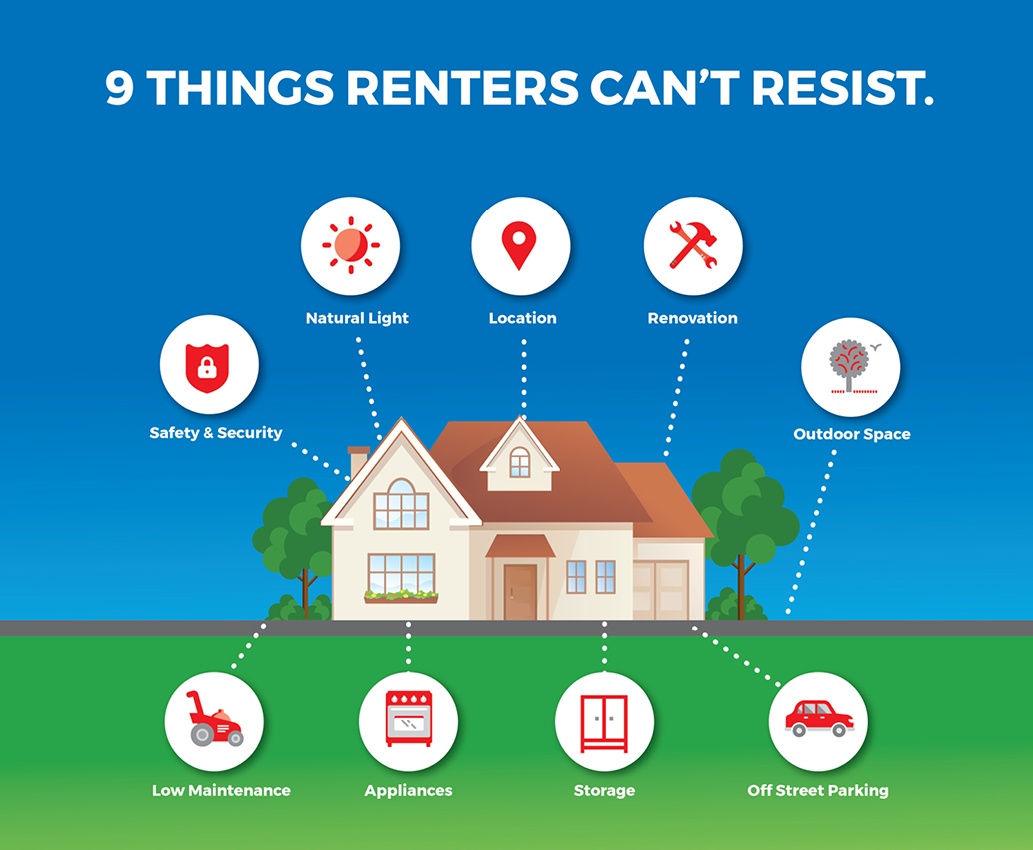 Are you looking to get into property investment in 2018? Then it's important to look for the RIGHT kind of properties to buy. David Kneebone, Lodge City Rentals General Manager, looks at what to consider when buying a rental to start your property portfolio.
If you've been thinking of getting into property investment but never have, it's a great time to make 2018 your year. You bring the desire, and we'll bring the advice, because at Lodge City Rentals, our market knowledge can't be beat.
The goal for buying a rental is to attract excellent tenants; people who pay their rent on time, are respectful of the property, and have a long-term lease. But since most landlords know what qualities make an ideal tenant, the landscape can be fairly competitive when it comes to finding them.
Here are 9 things renters can't resist.
1. Location
Location always was and always will be the most important feature of a property. Renovations and square footage become secondary concerns. People are much more willing to compromise on other amenities if they are in a location that is desirable to them in some way. Think of any area close to a large city.
For example, some areas in Hamilton, like Claudelands, have become hubs in the rental market due to their proximity to the CBD, river, parks, restaurants and shops. People prefer properties that offer flexibility in terms of transportation, shopping, food and entertainment.
2. Safety and security
Safety goes hand-in-hand with location. A safe environment is a powerful motivator for great tenants. If you're worried that your car or home is going to be broken into, it can be hard to sleep at night.
Researching crime statistics is an essential step to take when you're considering purchasing a new property in an unfamiliar area. If you already have a rental property, adding an alarm service or another security feature is a cost-effective way to make tenants feel safe and secure in any neighbourhood.
3. Appliances
If you provide appliances in your property, this could be a deciding factor for tenants, particularly if they're new. Here in New Zealand, most tenants will expect to have to have their own so a fully or even part-kitted out property with functioning appliances will have great attraction. Think washer/dryer, fridge and stove. However, if you do include appliances then it will be your responsibility to maintain them and coordinate repairs if required.
4. Storage Space
Typically, properties with small or no wardrobes will earn less rent. Very few people are minimalists, which means if potential tenants are weighing up your property with another, the house with greater storage space could well get the upper hand.
5. Renovations
Tenants love anything that looks or feels new. Every tenant knows that someone has lived in the space before them, but they don't want to see or feel that. Renovated kitchens and bathrooms hold particular appeal.
6. Off-street parking

For renters with cars, parking is incredibly important. Off-street parking is even more desirable. Being able to provide the tenant a spot in the driveway or in a garage will help get the unit rented quickly.
7. Natural light

No one wants to live in a cave, so if you're investing in a rental property consider the natural light, particularly in the lounge and bedrooms. If a property is dark at the time of viewing, step outside to see what maintenance could be done in the garden to let more light through. A little time spent on tidying up the property could pay dividends if it means you can get a good weekly rent.
8. Outdoor space
Outdoor living is another feature tenants are often looking for when renting a property, but ideally outdoor living with low maintenance. If there's a place for a barbeque or a backyard of grass on which to sit outside during hot summer afternoons, this could be the wow factor potential tenants are looking for.
9. Low maintenance grounds
Sustainable living has become a hot trend, with people turning patches of their back yard into small vegetable plots; others have a collection of pots in which to grow kitchen herbs. Having outdoor space as mentioned above is certainly a plus for a rental property but low maintenance is key. If you have large lawns to mow or a flower garden to upkeep, expect to hire the services of a gardener; it's unlikely your tenants will maintain this for you, though for some tenants it could be an added attraction.
Of course, the best rental properties are those where the numbers stack up.
Investing in property is going to take some capital investment, so you need to take stock of all your assets, your income and outgoings and work out how much you have available to invest.
Property has two types of potential returns. One is from rent paid by tenants and the other is from the property increasing in value, capital gain.
People buy investment properties to make a long-term profit as prices rise. In the short term there may be little or no profit from rent after expenses like mortgage, insurance, rates and maintenance are taken into account.
Seek advice
If stepping onto the rental property ladder is your New Year resolution for 2019, talk to one of our property managers. What I've learned is the most successful plans are always supplemented by wisdom and our team can steer you in the right direction.