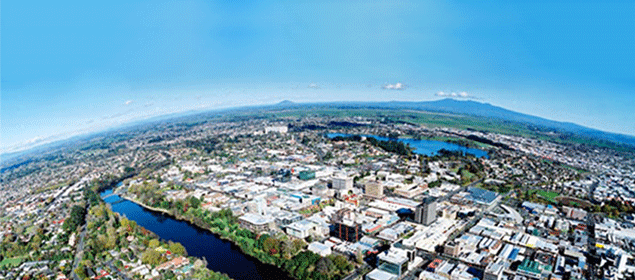 According to the acting chair of Waikato Means Business, Parekawhia McLean, Hamilton is on track to become New Zealand's second largest city in the next 25 years, overtaking frontrunners Christchurch and Wellington.
While an ambitious prediction, our city's rapid population growth could very well see it happen. Which begs the question: what does that mean for the Hamilton housing market?
Learn more about Hamilton's overall growth and the key suburbs to watch here.
Migration fuelling Hamilton's population growth
Migration to Hamilton has boomed in recent years. In 2017, our net migration came in at 1,875—a 12.3 per cent increase from 2016. It's also worth noting that this includes overseas migrants intending to stay for 12 months or more, plus New Zealand residents returning after an absence of 12 months or more.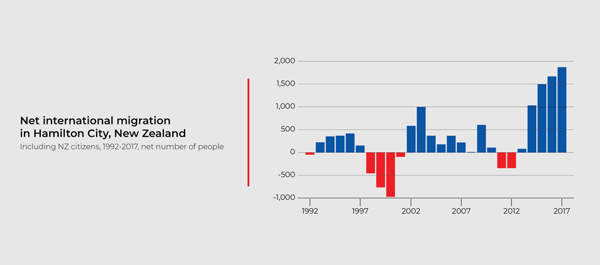 Source: FigureNZ.
Migration patterns in Hamilton
Overseas
The influx of migrants on working visas is one of the key drivers of our city's high migration numbers and overall population growth. Of the 4,200 person increase to Hamilton's population from June 2016 to June 2017, 2,000 people (48 per cent) were international migrants.
Where are they coming from?
Overall, 24 per cent of Hamilton's population were born overseas, with the most common country of birth being the UK and Ireland, followed by North-East Asia and Pacific Islands.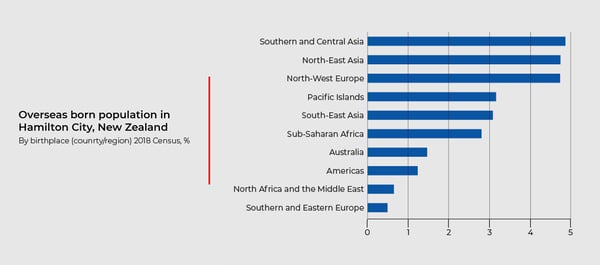 Source: FigureNZ.
Internal migration within New Zealand
"A large proportion of Hamilton's new residents are migrating from other areas in the Waikato and from Auckland," says Jeremy O'Rourke, Managing Director of Lodge Real Estate.
What's more, the data shows us that the majority of new residents are aged between 20 to 24 years, with the 15 to 19 year age group coming in at second highest. This is a common trend across all cities that possess a major tertiary education centre. In Hamilton's case, it's the University of Waikato. The strong departure figures in the 25 to 35 age group bracket is further evidence of this, as graduating students leave Hamilton.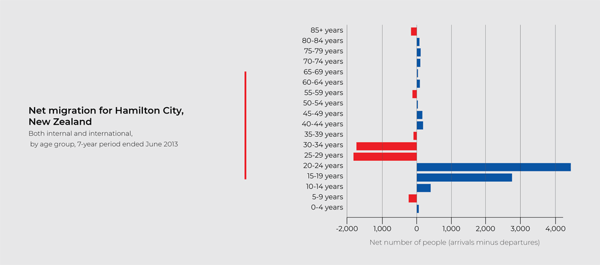 Source: FigureNZ.
The northward shift
The golden triangle of Hamilton, Tauranga and Auckland provides approximately 50 per cent of New Zealand's total filled jobs and generates over half of our national GDP. Given these statistics, it's no surprise that many Kiwis are migrating northwards to study and fill jobs.
With Hamilton's new Ruakura Inland Port added to the mix in 2019, creating 11,000 new jobs in the process, this number is likely to grow. In fact, the NZ Transport Agency predicts that Hamilton, Tauranga and Auckland will home 53 per cent of New Zealand's population by 2031.
Within Hamilton itself
We're also seeing movement within Hamilton itself. Trends from census data show that people, especially young people who have finished studying, are moving away from the central city areas and settling on the more affordable city fringes.
What does this mean for Hamilton's property market?
Looking at future projections, migration to Hamilton is set to continue, though not to the same level as previous years. As people flock to the region, housing demand will remain high. Examining annual building consents next to Hamilton's annual population growth shows that Hamilton still has more people than houses.
The result of Hamilton's population growth, of which migration plays a major role, is an increase in higher density living—apartments, duplexes, and townhouses for example—and new projects to "fill-in" the vacant land within the city's boundaries.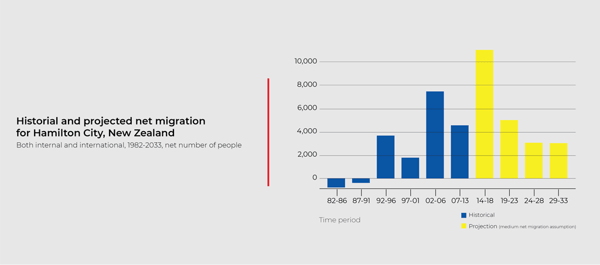 Source: FigureNZ.
High-density dwellings reached a historical high in 2017, up 64 per cent from 2016. Consents for land use and subdivision have also risen.
"Hamilton is a very porous city and we're seeing a lot of in-fill happening in the Franklin corridor, along with high-density developments around the fringe of the CBD, such as the Parkhaven specialty block," says Jeremy O'Rourke, Managing Director of Lodge Real Estate.
"We're also seeing apartments selling in Rototuna on top of the commercial development there. So looking forward, we can expect to see more pockets of high-density living across the city."
Hamilton's growing population has also increased the pressure on rents. Data from the 2013 census shows that there are more renters than homeowners in Hamilton and that the number of people who do not own the home they're living in has rapidly grown in the last decade.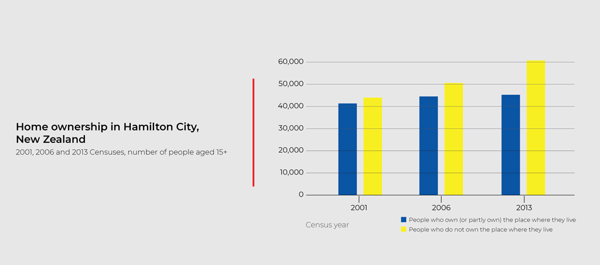 Source: FigureNZ.
From a buyer and investor perspective, Hamilton's fastest growing suburbs also bring opportunity as new facilities and amenities (sports centres and schools for example) are built to support the community. These facilities will not only improve the liveability of the suburb, but may also influence its popularity and the demand for homes in the area over time.
In summary, migration—not just from overseas, but from within New Zealand too—is playing a significant part in pushing up Hamilton house prices. For home sellers and investors, it means that while the number of home sales might slow, property growth will remain steady and rental properties in high demand.
Want to make smart, informed moves on the Hamilton property market? Learn everything you need to know about researching your local Hamilton real estate market with our free guide!