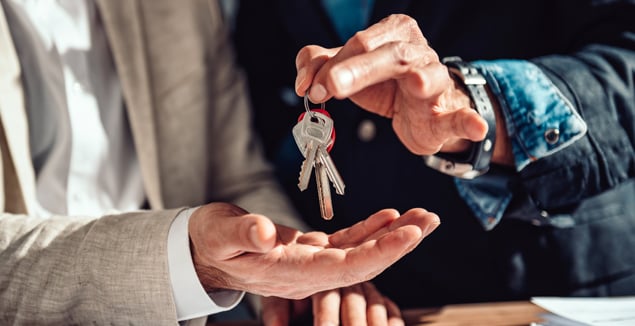 What information are property owners really allowed to ask tenants?
Recently you may have seen a story in the media around property managers and landlords asking to check tenant's bank statements.
It's a controversial topic and both landlords and tenants might be unclear about what information can be requested. At Lodge Rentals, we make sure our processes are transparent, and that all applicants are treated fairly in accordance with the correct guidelines.
Requests for information usually starts at the application process where landlords try to find tenants that are the 'best fit' for their property.
While it can be unclear for some as to what information can be legally requested, in this blog we look to clarify what information landlords can and can't ask from tenants, and what our three key criteria are for finding the right occupant.
Things landlords can ask for
There's a lot information landlords can request from people applying for a rental property. These fall under the Privacy Act guidelines for landlords and tenants.
Name, contact and proof of identity are pretty standard things to request, including whether an applicant is 18 or older.
Expected length of tenancy is something that can also be requested because property owners need an indication of incoming rent for a period of time.
For preferred tenants, landlords can request consent for a criminal record, as well as a credit report. Credit reports make sense because you want to be able to check whether tenants are able to pay rent, without diving into an applicant's personal information.
Other standard information to request includes:
Number of occupants intended to live in the property
Pet ownership
Whether the tenant is a smoker / non-smoker.
Things landlords shouldn't ask for
Nationality, ethnicity, origin, citizenship – this is information landlords should not be requesting from tenants and applicants, including information about a person's personal beliefs, marital status, gender or disability. Much of this falls under The Human Rights Act 1993, which aims promote equal treatment and prevent discrimination.
Other information landlords cannot request includes:
Previous rent paid
Current household expenses
Employment information
Proof of insurance
Key criteria for finding the right tenant
At Lodge City Rentals, there are three things we look for from prospective tenants before placing them in a property. These are:
Pay - Whether a tenant can afford to pay rent regularly. This is the crux of it. Landlords need rent paid, and tenants need to live in an affordable home without the added pressure of making rent on time.


Care - Whether the tenant is going to look after the property. We have assets worth hundreds of thousands, sometimes millions, of dollars and we need to know that we're placing the right people in these properties.


Respect - Whether they're going to respect the neighbours.
These are the three issues we're ultimately concerned with, and if tenants let us down in any one of these areas then it's not a good fit.
We also look at history of behavior. If someone has rented through Lodge City Rentals before, we can check whether they've been a good tenant. One thing we're very active on is checking tenant references. If someone has applied for a rental property, we'll follow up with their references and also check their legitimacy (i.e. whether that reference actually owned or managed the property of the applicant).
Taking the guesswork out of tenant applications
When you apply for a job, you want to put your best face forward. The same applies for tenants when they're looking to rent a property. Landlords and property managers are really only after one thing – reliable tenants. And like an employee, you want someone dependable and trustworthy.
But it can be a time consuming process looking for the right tenant. Lodge likes to take the guesswork out of that process for landlords and property owners. If you're new to property investment, or you're managing your property alone, ask the team at Lodge Rentals for assistance on how to get the right tenant in your property. It could be the difference between a long-term, well suited renter versus a short-lived occupant.
See you next month!