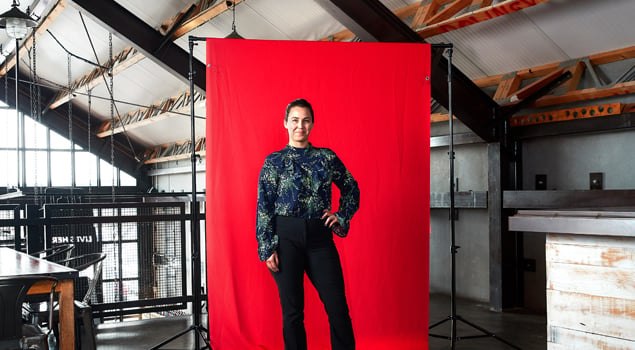 When Abi Jenkins was searching for her next career move, she didn't have to look very far.
She was working as an administrator for Lodge Real Estate and knew that she wanted to further her career within the company. She also knew that Lodge was the kind of company that would go over and above to help her achieve this.
"That's the type of culture we have at Lodge. They really value their people and their careers," says Abi.
"I wanted a new challenge and I really appreciated Lodge's values, so I wanted to stay with the business."
While Abi was still deciding her next move, Lodge offered her further career development with a role in their marketing team.
"While I was still thinking about moving into sales, Lodge offered me the auctions and signs co-ordinator role in the marketing team, so I took it thinking this would be great experience, and it was."
She remained in that role for six months, until another Lodge agent asked her again if she'd consider teaming up with him and going into sales.
"I finally decided to take the leap, but to be honest the other agents and their approach had already given me the confidence I needed to step up."
Lodge's Operations Manager Jo Dwyer gave Abi the information she needed to enroll for her Certificate in Real Estate through the Skills training company. Abi had to complete 13 papers and she says Lodge were also able to help with some of the papers that had a "role playing" requirement.
"Lodge really did their utmost to help me through the process. They really care about their people and have a great team who try to make it as easy as possible for new agents getting started."
Once Abi completed her training, and her license was approved by the Real Estate Agents Authority, Lodge also helped her get started as a fully qualified agent.
"I was given a "new agent" pack and meetings were set up with everyone I would need to work with including customer care, the marketing team, accounts, the branch administrator and even Neville Hunt, the ex-Director who helped to establish the Lodge brand."
"It certainly helped that I'd had the career progression through the business and had worked in some of the roles previously too."
Abi says Lodge helped her map out a plan to market herself as a real estate agent, identify prospects and set financial goals and her branch manager was always there for support.
"It was so smooth. Lodge really did their utmost to make this process so easy for me."
"Now I'm constantly throwing out questions to other salespeople in the office to draw on their experience and they're always happy to help."