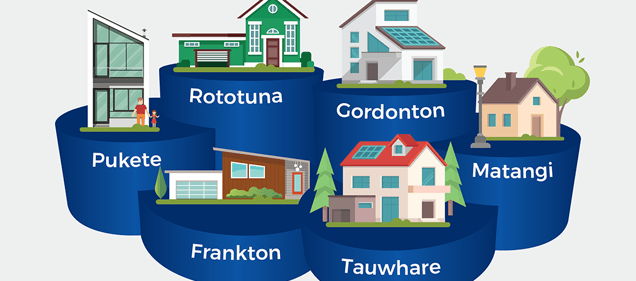 Whether you're looking to sell, buy or invest, there is a lot of information to go through when doing your due diligence on the state of the Hamilton housing market.
What you choose to focus on may vary depending on where your property is located, where you wish to buy and what your overall property goals are. To help you get started, here are four suburb statistics that are always good to research.
Owner-occupancy ratio
The owner-occupancy rate of your Hamilton suburb can say a lot about the type of buyer your property will attract. Suburbs with high owner-occupancy rates may mean properties in the same neighbourhood are likely to appeal to buyers who wish to live in the home, rather than rent it out.
Knowing what kind of buyer you're likely to attract can help you tailor your home sale preparations. Where investors want something easy to maintain, homeowners may place more weight on quality and aesthetics. This can influence everything from what value-adding renovations you might choose to do to how you market the property.
Lastly, understanding the owner-occupancy rate can help you determine whether you keep hold of your property or sell it off. If you're in a suburb that's home to a lot of renters, you may find turning your property into a rental is another good option, particularly if you're looking to begin an investment portfolio.
As an investor, looking at the owner-to-renter breakdown of a high-density development—particularly those managed by a body corporate—can also help you assess the risk of buying into it. Generally speaking, home owners are more committed to the maintenance and upkeep of their homes. If one property in a development suffers, they all do. In this investment scenario, it often actually pays to have a good split of owners to renters.
Broadly speaking, the suburbs with the highest owner-occupancy rates in Hamilton are on the edges of the city, while renter-dominated suburbs tend to fall around the CBD and the University of Waikato.
Suburbs with over 70 per cent ownership
| | | |
| --- | --- | --- |
| Woodridge | Rototuna | Queenwood |
| Huntington | Rototuna North | Riverlea |
| Huntington North | Pukete | Dinsdale North |
Suburbs with less than 50 per cent ownership
| | | |
| --- | --- | --- |
| Fairfield | Hamilton Central | Naylor |
| Frankton | Hamilton East | Hamilton Lake |
| Bader | Claudelands | Crawshaw |
| Silverdale | Peachgrove | |
Business growth
If you're in a suburb that is in or near a high-growth business area, this could influence your decision to sell, as housing demand will increase as employees from these businesses look to locate themselves within an easy commuting distance.
As an investor, properties near growing regions can indicate a potential opportunity for rental investment, as housing demand grows along with business growth.
To see where the areas of biggest growth, view the full map here.
Hamilton suburbs with the largest growth in business numbers
These suburbs experienced more than 20 per cent growth in business numbers from 2010 to 2015:
| | | |
| --- | --- | --- |
| Ruakura | Rototuna North | Brymer |
| Huntington | Woodridge | Insoll |
| Huntington North | Te Rapa North | |
Crime rate
New Zealand is the second safest country in the world. That said, crime still exists and people want to feel safe in their community and neighbourhood. As such, many buyers investigate a suburb's crime statistics before buying—and for this reason, so should you.
In Hamilton, residential property is a target for crime. Understanding the type and frequency of crime in your suburb can help you anticipate what your buyers may focus on when they assess your property.
For example, if you're in an area with moderate to high crime, they are likely to value a secure property more. Knowing your suburb's crime rate means you can anticipate any curly questions buyers might have about it and allows you time to create a pre-planned response and make necessary home improvements.
To research your suburb's crime rate, visit policedata.nz
Median age
With a median age of 32.2 years, Hamilton is the "youngest" city in New Zealand. As a comparison, the national median is 38.0 years. Census data allows us to break this down even further and look at the median age of each Hamilton suburb. This data is significant in two key ways.
First, most people accumulate wealth as they age—they tend to be employed in higher paying jobs and are more likely to have made investments to grow their wealth (in property, shares or business for example). As such, if your suburb's median age is high, you may find that your property will attract wealthier buyers—likely second or third homebuyers and investors—who can afford to purchase into your area. Likewise, "younger" suburbs may attract more renters and first home buyers. Knowing the median age can again help you anticipate who your buyer is likely to be, and adjust your property sale accordingly.
Second, is that like attracts like. People of similar character naturally flock together—and that includes age to a degree. The result is that some suburbs are better equipped with services and amenities that reflect the needs of their median age. For instance, a retiree-dominated suburb with a high median age may have more health and medical facilities than a low median age suburb full of students.
In Hamilton, there is a distinct young/old split between the suburbs: older north, younger south, likely due to the location of the University of Waikato. Suburbs with a younger median age also tend to be located closer to Hamilton's CBD.
Hamilton's "oldest" suburbs
The following suburbs have a median age of over 40.
| | | |
| --- | --- | --- |
| Te Rapa | Queenwood | Rototuna |
| Peacocks | Flagstaff | |
Hamilton's "youngest" suburbs
The following suburbs have a median age of less than 30.
| | | |
| --- | --- | --- |
| University | Hamilton Central | Crawshaw |
| Hillcrest | Bader | Fairview Downs |
| Hamilton East | Temple View | Frankton (central) |
These are just a few of the suburb statistics worth assessing. The more research you do, the better you'll understand the overall health of your suburb, and how it compares to other neighbourhoods and Hamilton housing market trends.
Want to know more about researching the market? Learn what else you should look into here.
"It's really about understanding the neighbourhood your property is selling in," says Jeremy O'Rourke, Managing Director of Lodge Real Estate. "It's about knowing who is prepared—or which market is prepared—to pay the most amount of money for your particular type of property and where it's located."
With this information, you can make informed decisions on whether to sell now, hold off until the market changes, or to invest in regions where opportunities are present.
Without it, you're just gambling the Hamilton housing market without knowing the odds.
Want to make smart, informed decisions about your property? Download our free guide on the Hamilton Property Market to learn what detailed, suburb-specific insights you need—and where to find them!