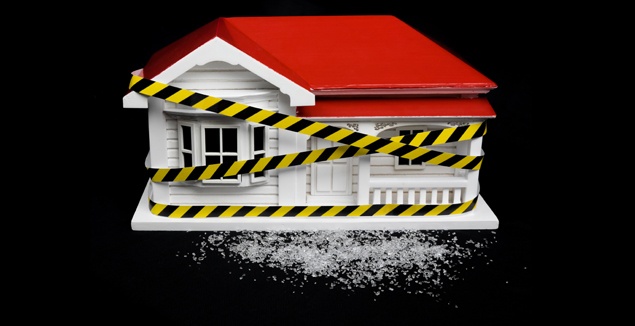 The Government says we should no longer do composite methamphetamine testing in rental properties, and Lodge City Rentals General Manager David Kneebone says they're completely right. He talks us through the decision and why it couldn't have come soon enough.
The Government's Chief Science Advisor Sir Peter Gluckman says "don't bother" meth testing in homes, and I completely agree. Kiwis have wasted thousands of dollars unnecessarily on cleaning up methamphetamine – or P – "contaminated" homes for too long.
For several years, property owners have been in the thick of a meth testing frenzy. Methamphetamine contamination in homes reached a supposedly epidemic level, resulting in the over-zealous testing and clean-up of rental properties at significant cost to landlords.
How did we get in to this mess?
For several years, New Zealand had no standard meth-testing guidelines which paved the way for an unregulated industry of meth-testing and decontamination "experts".
In 2017 the Government announced new standards that stated a property was legally defined as contaminated if it tested positive for methamphetamine at 1.5 micrograms per 100 square meters. This was followed by the proposed Residential Tenancies Amendment Bill which would allow landlords to evict their tenants with just seven days' notice if the house tested positive at the 1.5 micrograms cut-off.
According to experts, detection of methamphetamine at levels as low as 1.5 micrograms is less harmful than the presence of mold in the home. Ironically, the New Zealand Drug Foundation also opposed the guideline, saying there is no evidence of an immediate health risk from being in a house where methamphetamine has been used but not manufactured.
In the absence of clear scientific and health information, we've assumed exposure to the smallest amount of methamphetamine is harmful. Thanks to this report, we can now say for certain that's not the case.
The Chief Scientist's findings
After reading the report, there are some key takeaways we in the rental industry should take on board:
The use of composite testing has very limited value in accurately reflecting levels of risk from methamphetamine. Composite testing is used to determine any level of methamphetamine in a property by taking samples from several locations in the property which are tested in a single sample tube.
The alternative to composite testing, discrete testing, is expensive and in many cases its cost outweighs the actual potential of the risk. In discrete testing, individual samples are taken from separate locations around the property, or from within the same room, to determine individual levels of methamphetamine at each test site.
There is no point in testing homes for methamphetamine contamination unless there is strong evidence to support the home was used for manufacturing, and less than 1% of samples studied (from 13,000) returned a reading above 30 micrograms (the level considered to indicate manufacturing).
74 meth labs were detected in 2016, with 50 of them being rental properties (from a total of 680,000 rental properties in New Zealand). The number of meth labs is decreasing due to much of the drug being imported rather than manufactured.
There is currently no evidence that methamphetamine levels typically resulting from third-hand exposure to smoking residues on household surfaces can elicit an adverse health effect. In most cases, testing is simply not warranted.
Where to from here?
It may be tempting to continue to operate from a "risk averse" mindset until we have more public consultation and clear guidelines that say otherwise, however this report provides solid evidence that we do not need to make routine testing for methamphetamine compulsory for new tenancies. Ultimately, the decision to test remains with the landlord.
In the meantime, there are other issues the rental industry can be getting on with – such as getting ready for the 1 July 2019 insulation deadline and the upcoming Healthy Homes Guarantee standards.
As always, feel free to have a chat with your Lodge City Rentals property manager for more information and advice specific to your property.