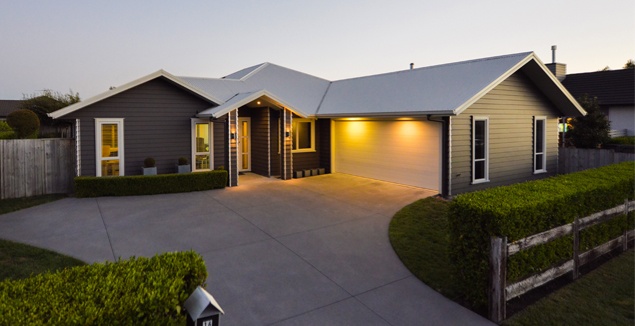 Grant Paterson, a recent Residential Manager of the Lodge Real Estate Rototuna Branch, describes the auction process as the "best selling method."
Grant recently celebrated the sale of his property at 16 Te Huia Drive in Flagstaff which sold under the hammer for $1,001,000.
Grant listed his million-dollar property with Rototuna agents Blair Pointon and Neil Archer. "I had confidence in their ability to facilitate the process. I was the Manager of the Rototuna branch for four years and over that time they earnt my confidence and trust. I've seen how well they treat their clients," said Grant.
Grant chose the auction process because he felt "it was the best-selling method to achieve the best possible price. I was confident that there would be good interest in the property. It was in a great location, had great content, was well-presented and there wasn't a lot on the market in the same price range. The timing was perfect."
Blair and Neil marketed Grant's property for one and a half weeks before bringing the auction forward due to receiving an acceptable pre-auction offer. In one weekend, Blair and Neil held two open homes which saw 13 groups of unaccompanied potential buyers, as well as eight groups accompanied by salespeople.
Grant had no reservations or concerns walking into the auction room. "I knew it was already sold and could go further, and it did." Grant had two bidders on auction day and was thrilled with the result. "A point of difference for Lodge are our auctioneers; we have skilled auctioneers and I believe they're the best in Hamilton because of they have the momentum, energy, and the enthusiasm to facilitate the auction process," said Grant.
In February 2018, when Grant's property was listed, 74% of Lodge Real Estate properties listed as auction have sold in comparison to 46% of exclusive listings. This illustrates that the auction process precipitates in a faster selling period.
Grant said "I've always been a huge advocate towards the auction process. For years I've seen the benefit of it through my vendors. If you have the right property, why wouldn't you take the opportunity to achieve more than the market price?"