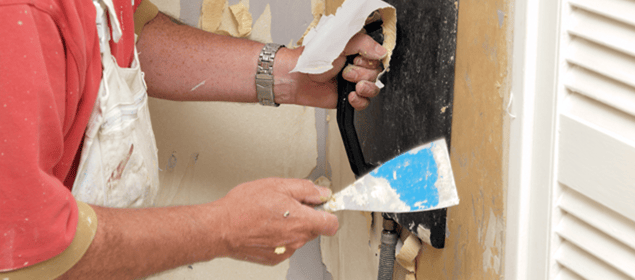 If the sight of your 70's wallpaper is making you cringe, chances are it'll be the same for any buyers who come through your property too. But don't despair, getting rid of wallpaper isn't a difficult or costly exercise, in fact, it's quite simple to remove wallpaper yourself.
Here's a step-by-step guide:

Equipment:
Tarpaulin or drop sheet.
Duct tape.
Sponge.
Optional extras:
If you're removing wallpaper with non-toxic mould on it:
Gloves.
Mask.
Mould killer or white vinegar.
Seriously, that's it!
Step 1: Remove the top layer of wallpaper
Find the edge of one section of wallpaper then slip the edge of the scraper underneath to gently lift the edge off the wall. When it's big enough to hold on to, you can use your hands to pull the rest of the sheet off, exposing the backing paper underneath. Repeat with the next sheet until the room is cleared.
Tip: Round off the tips of your paint scraper with a sander or bit of sandpaper—this will help prevent damage to the wall underneath.
If your wallpaper doesn't come away cleanly on the first try, use your garden sprayer to spray it with hot water. It's worth noting that some wallpapers are moisture resistant, particularly those used in bathrooms. If your wallpaper falls into this category, use a wallpaper scoring tool to puncture holes in your paper to allow the water to soak through.
Get our free guide for more great home renovation tips and ideas:

Step 2: Remove the backing paper
Fill your garden sprayer with hot water and spray it over the backing paper. Spray from the top down. Try not to over-saturate the backing paper. The extra moisture could seep through to the wall underneath and you'll have to wait for it to dry before continuing.
Important! Before you spray your walls, make sure you tape over any electrical outlets with duct tape.
Leave the water to soak into the backing paper for 10 minutes, then use your scraper to peel off the backing paper, much like you did earlier with the top layer.
Tip: If your backing paper is particularly well glued on, try using a wallpaper stripper or just mixing fabric softener into your spray.
Step 3: Clean your wall
Use a sponge and warm water to remove any glue from your wall. If there is any non-toxic mould on your wall, clean this off with some mould killer or white vinegar. Keep in mind that you should also investigate the cause of the mould and seek a solution to prevent it happening again.
Once the wall is dry, you're ready to begin prepping your wall for painting or applying a new wallpaper to it!
Important! If you suspect that there's mould under your wallpaper, get it tested to make sure it is not a form of toxic mould. If it is, you'll need to get a specialist contractor to remove it.
Need help planning your renovations? This guide has everything you need, from what requires consent to renovations proven to add the most value.